Social distancing at count means declaration for mayoral vote may be on Sunday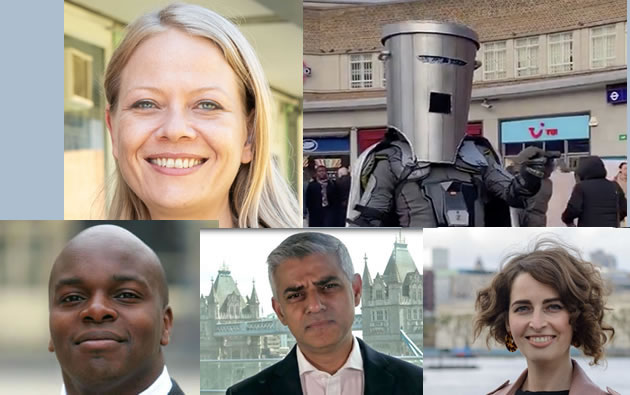 Some of the candidates - clockwise: Sian Berry (Green), Count Binface, Louisa Pollitt (Liberal Democrat), Sadiq Khan (Labour) and Shaun Bailey (Conservative)
Voters casting their ballots for the Mayor of London and London Assembly members today will have to wait until the weekend to find out the results.
Votes will be counted in three separate locations across Friday and Saturday to allow for social distancing and to minimise the number of people in each count centre.
The first set of results to be released will be the 14 constituency seats in the London Assembly, seven of which are expected to be announced on Friday evening with the remaining seven announced on Saturday.
With no overnight counts taking place, Londoners may have to wait until Sunday to find out who the next Mayor of London is, depending on voter turnout.
The earliest that voters may find out the mayoral election results is Saturday evening, with the results of the London-wide Assembly seats to be announced at the same time.
The winner of the mayoral election is expected to be announced at City Hall no later than midday on Sunday, with a limited number of press in attendance.
The seven London Assembly constituency seats that will be counted on Friday are:
Bexley & Bromley
Brent & Harrow
Ealing & Hillingdon
Havering & Redbridge
Lambeth & Southwark
North East
West Central
While the following seats will be counted on Saturday:
Barnet & Camden
City & East
Croydon & Sutton
Enfield & Haringey
Greenwich & Lewisham
Merton & Wandsworth
South West
The full list of candidates standing to be Mayor of London, in the order they will appear on the ballot, is as follows:
Shaun Bailey – Conservative Party
Kam Balayev – Renew
Sian Berry – Green Party
Count Binface – Count Binface for Mayor of London
Piers Corbyn – Let London Live
Max Fosh – Independent
Laurence Fox – The Reclaim Party
Peter Gammons – UKIP
Richard Hewison – Rejoin EU
Vanessa Hudson – Animal Welfare Party – People, Animals, Environment
Steve Kelleher – Social Democratic Party
Sadiq Khan – Labour Party
David Kurten – Heritage Party
Farah London – Independent
Valerie Brown – The Burning Pink Party
Nims Obunge – Independent
Niko Omilana – Independent
Luisa Porritt – Liberal Democrats
Mandu Reid – Women's Equality Party
Brian Rose – London Real Party
In order to have been included on the ballot, candidates will have had to secure 66 signatures from registered voters in London, two in each borough and two from the City of London.
Candidates will have also had to pay a deposit of £10,000 to have their manifesto included in a booklet sent to all voters, with the deposit only returned if they secure at least five per cent of the votes.
According to the latest opinion polls, only four of the 20 candidates are expected to reach at least five per cent of the vote and have their deposits returned.
More information on both the London Mayor and London Assembly elections can be found on the London Elects website.
Joe Talora - Local Democracy Reporter

May 6, 2021