Travel card costs to rise by 2.8% next year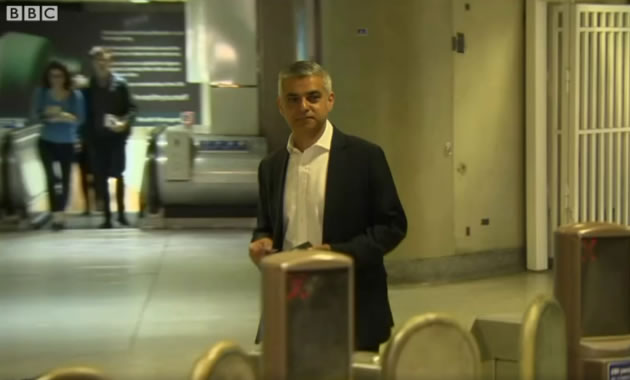 Sadiq Khan will freeze Transport for London (TfL) fares for the fourth year running, it was announced this week.
All pay-as-you-go journeys on Underground, train, tram and bus services operated by the network will remain the same in 2020. But weekly, monthly and annual travel cards, and daily and weekly fare caps are not included in the fare freeze. Pricing for these tickets is agreed with national rail operators, and will go up 2.8 per cent next year.
The four-year fare freeze was a commitment in Mr Khan's 2016 mayoral manifesto – but it is not yet clear if he will promise more freezes in his bid for re-election. Other mayoral candidates – including Conservative Shaun Bailey and independent Rory Stewart – have suggested fares should rise.
Delays to the Elizabeth line and falling bus use have put pressure on TfL's budget, and the network expects a loss of almost £750 million this financial year.
Mr Bailey today accused the Mayor of a "lack of honesty and courage" which was putting "major pressure on an already shaky system".
He said: "Yet again Khan has chosen not to be honest with Londoners, opting to try and fool them instead.
"His so called fare-freeze is a fare-fraud that changes nothing. Four and a half million commuters will still have to pay an extra 2.8 per cent from January 2020.
"Hard-working commuters are going to get a nasty shock when they discover the cost of their monthly travel card and weekly cap has increased – as has always been acknowledged in the Mayor's TfL business plan."
But Mr Khan said he was "making transport more affordable for millions of Londoners".
He said, "This shows what a Labour administration can do. In stark contrast, when he was mayor, Boris Johnson increased TfL fares by a staggering 42 per cent.
"Since 2016, the Tory Government has allowed national rail fares to increase by more than 10 per cent despite all the overcrowding and delays.
"If I can freeze fares and provide a better service on TfL, it's a disgrace that this Government continues to allow failing private rail companies to get away with hiking up their fares."
Shashi Verma, director of strategy at TfL, said: "We are committed to making travelling by public transport in London as affordable and convenient as possible.
"Millions of people travel using bus, Tube and rail services across London, and through our pay as you go fares system we are helping to encourage more people out of their cars and onto public transport."

Jessie Matthewson - Local Democracy Reporter

November 19, 2019