Plans to increase prices in line with inflation if re-elected as Mayor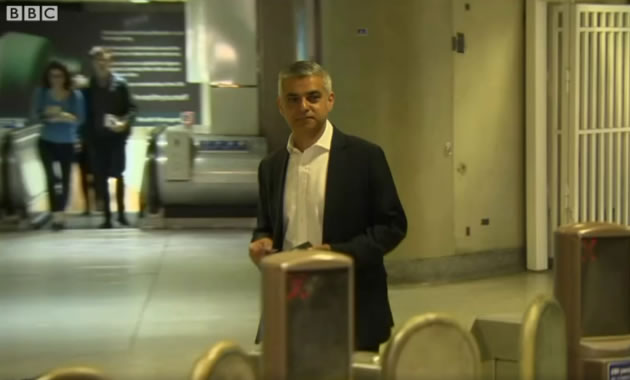 The cost of pay-as-you-go journeys on the Tube will rise if Sadiq Khan is re-elected Mayor of London in May.
Mr Khan this Friday (13 March) admitted that his four year fare freeze could not continue – but said bus travel would stay flat at £1.50 until 2025.
The bus Hopper fare – allowing passengers to change as many times as needed within an hour at no extra cost – will also stay the same.
The Mayor said Tube travel costs would rise each year – but claimed this would be no more than the cost of living. Mr Khan said he would try to reduce off-peak and weekend fares if possible.
He said: "Londoners know they can trust me to keep making transport as affordable as possible. I've frozen TfL fares for the past four years, saving Londoners on average £200 a year."
It is not yet clear how much Tube fares would rise if the Mayor is reelected – or whether the fare hike will also apply to the Overground.
Increases could be based on the consumer price index (CPI) or the retail price index (RPI), two measures of inflation – RPI is generally higher, at 2.7 per cent last month.
Transport for London (TfL) budgeted for an RPI plus one per cent increase in fares in its five year business plan published in December.
The transport authority has lost an estimated £640 million of fare income from the freeze over the last four years.
TfL has also missed out on a £700 million grant from Government under a deal negotiated during Prime Minister Boris Johnson's time as Mayor.
And delays to the Crossrail train link have cost the network £1.35 billion in lost income.
Despite cutting its £1 billion 2018/19 budget deficit, the network still has £11.2 billion debt – and in December it announced it would increase its reserves or face a downgrade on its credit rating.
Yesterday (Thursday), rating agency Moody's said TfL would lose £400 million in fare revenue by June because of coronavirus.
But Conservative candidate Shaun Bailey today accused the Mayor of using the pandemic as cover for his fare hike.
He said: "This is shameless and despicable behaviour from someone who is supposed to be a leader."
He added: "Sadiq Khan's fare hike u-turn is an admission that he has put TfL finances in the toilet.
"His fake fares freeze has left £640 million worth of upgrades undone, which has set London back."
Independent Rory Stewart, Liberal Democrat Siobhan Benita and Green Sian Berry were approached for comment.

Jessie Matthewson - Local Democracy Reporter

March 13, 2020