Have You Seen Ronnie?
---
Missing since 8th September from East Putney
Ronnie, has been mising since the early hours of Wednesday 8th September. He is quite distincive as he has white fur on his body and a tabby, black tail.

He was last seen in the Oakhill Road area of East Putney and may have strayed over the rail line towards Disraeli Road and the surrounds.

Please, please can you check sheds, garages or anywhere in your own home or garden where you think a cat may like to curl up or hide.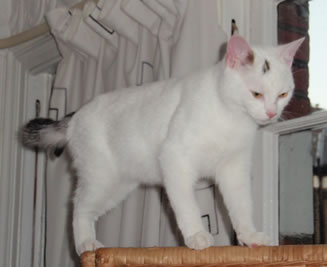 Ronnie is microchipped and has a white collar with pink detailing and also a name tag with contact details. The tag bears the Battersea Dogs and Cats home logo. He is 8 months old and very affectionate but is scared easily.

Please keep an eye out for him and contact Georgina if you find him or see him.

September 9, 2010