Wandsworth Labour Leader Dismisses Momentum 'Power Grab'
---
Says party members recorded plotting against him are 'small minority'
A plot by left-wing grassroots movement Momentum to oust Wandsworth's moderate Labour Group leader Simon Hogg has been revealed.

The Evening Standard this Tuesday (27 March) published the secret recording in which Momentum members discuss the possibility of removing Cllr Simon Hogg should he become the Leader of Wandsworth Council with a labour majority in May's local elections.

Voices on the recording are heard to describe Cllr Hogg as "weak and useless" and that "there will be a move against him whether we win or lose".

Cllr Hogg of Latchmere ward told this website, "Labour are united to win Wandsworth and end 40 years of Conservative rule. Voters are fed up of seeing no action from the Conservative Council, they aren't tackling the housing crisis, they're cutting funding for schools and helping the Government plough through a hard Brexit.

"The Wandsworth Labour campaign is pleased to have the support from a broad church of people from trade unions to local businesses. Like any organisation, we'll have a small minority of people voice concerns - our campaign is about listening to everyone. We remain solely focused on winning Wandsworth so we can begin building affordable homes, protecting school budgets and cleaning up our air."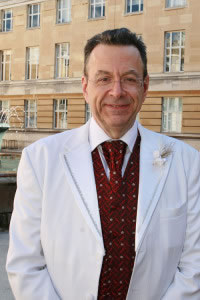 Often referred to as the Tory flagship council, Wandsworth has been controlled by the Conservatives for the last forty years, but shifts in key local issues have made for a changing borough landscape. Former Conservative councillor Malcolm Grimston (left), who is now an independent in his West Hill ward, told us, "This could be the tightest election since 1986. National factors do play an important part and we don't yet know how recent rows about anti-Semitism and Russian nerve agents will play out....but at the end of the day local elections should be decided on local issues."

Affordable housing, Heathrow's third run way and Brexit - Wandsworth currently has over 26,000, and rising, EU citizens on the electoral register who are eligible to vote on 3rd May - are factors that will shake any Tory complacency.

Wandsworth Momentum are well aware in the shift in local opinion. A news story on their local website talks of the "opportunity for there to be a Labour Council in Wandsworth" with a call for Labour councillors to show "some stomach for a fight against Tory austerity and privatisation".



Putting aside the Evening Standard's revelations Candida Jones (above), Deputy Leader of Wandsworth Labour and Furzedown councillor, told us, "Simon has the support of the entire Wandsworth Labour Group and I know he will make an excellent council leader in May."

We have asked Momentum for comment.
March 28, 2018