District line and station reopen as police appeal for information about terrorist attack
Counter terrorism detectives are urging anyone with information about the terrorist attack at Parsons Green this morning to contact police.
Police say 29 people are now known to have been injured during the attack in which an improvised explosive device was detonated on a tube train at Parsons Green Tube Station at around 8.20am on Friday morning.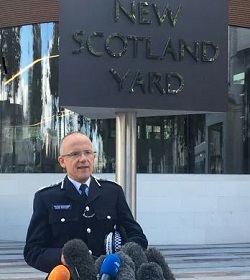 Assistant Commission Mark Rowley, head of National Counter Terrorism Policing, said: "Our investigation is continuing at speed and our priority is to identify, locate and arrest those responsible.
"Hundreds of police officers are pursuing numerous lines of enquiry, trawling through hours of CCTV footage and speaking to witnesses.
"The device and remnants left at the scene have been taken away and are being examined by forensic experts. While this work is ongoing, there is no doubt in my mind that those responsible intended to cause great harm and injury."

So far, detectives have spoken to 45 witnesses and continue to receive information from the public to the confidential anti-terrorist hotline.
The public has sent 77 images and videos to investigators via the UK Police Image Appeal website.
AC Rowley, continued: "My thoughts are with all those who have been affected by this terrible attack. It is an attack on all of us.
"I urge communities across the UK to be vigilant and report any suspicious behaviour to the police immediately. Please do not hesitate, no matter how insignificant you may think the information you have is – please let us decide. It could be crucial."
Anyone with information is urged to call the Anti-Terrorist Hotline on 0800 789 321 or, in an emergency, always call 999.I would also urge anyone with images or moving footage from the scene to upload them at UK Police Image Appeal where they will be looked at by investigators.
"The independent Joint Terrorism Analysis Centre has raised the threat level from international terrorism to critical. This means that their assessment is not only that a terrorist attack is highly likely but that a further attack may be imminent.
"Military personnel have been drafted in to protect national infrastructure sites, allowing additional armed police officers to carry out patrols.
"Communities across the UK can expect to see more officers, both armed and unarmed, on patrol by foot and in vehicles over the weekend. In particular, they will be patrolling at crowded places, iconic sites, transport hubs and ports.
"This may mean disruption for those who are travelling. The public are asked to be patient and plan ahead, allowing time for delays.Police are reviewing the security of events across the UK and working with businesses and organisers to make events as secure as possible. Security checks at events will be enhanced, so people attending events should arrive early and allow extra time for these checks. If you don't need to take a bag, don't take it.
Meanwhile, Parsons Green tube station has been reopened this morning and the District line beween Earls Court and Wimbledon is back to normal. Parsons Green lane has also been reopened.
London Ambulance Service said that injured passengers were treated at three hospitals, St Mary's, St Thomas' and the Chelsea and Westminster.
Last night Chelsea and Westminster's Chief Operating Officer Rob Hodgkiss said: "Following today's incident at Parsons Green Station we initiated our major incident protocol. We have been working closely with the emergency services to ensure we treat patients in a safe and timely manner.
"Our major incident plans are well-tested and our doctors, nurses and support teams have worked extremely hard to ensure all casualties receive excellent care along with our other patients.
"At 1pm we stepped down from major incident status and continue as business as usual. We received 14 casualties including a small number of admissions to our specialist burns unit.
"I would like to thank our staff for the incredible work they have carried out today under difficult circumstances. "Our thoughts are with all those who have been affected by today's events."
Hammersmith and Fulham Council Leader Stephen Cowan said: "This morning's terrorist incident on a tube at Parsons Green station was yet another abhorrent attempt to divide and harm Londoners.
"I would like to thank the emergency services and TfL staff who responded quickly and bravely to help the wounded to safety and make the station safe.
"Our heart-felt sympathy goes out to those wounded in the attack. And our message to those that try to kill and maim is that we remain united in the face of terrorist threats.
"We have been working with schools to ensure pupils are safe and to help children and their families plan their routes home.
"We are providing a wide range of support including emotional and psychological support, health and safety advice and guidance on how to reassure and explain the facts to children."
Today's incident has also caused disruption to bin collections and street cleaning. The following roads have not had their rubbish collected or been swept:
St Maur Road
Bottom half of Epple Road
Elmstone Road
Shottendane Road
Harbledown Road
Fulham Road – Parsons Green to Broadway
Pulton Place
Cassidy Road
A portion of St Dionis Road
Kerbside collections will be made Saturday morning if roads open, or on Sunday morning. Street cleansing will follow after the bins are collected.
September 15, 2017