Sitting MPs retain seats with over half the votes cast
The constituency of Putney has been held for the Conservatives by Justine Greening who won 53.76% of the vote, she increased her party's share of the vote by 1.76%.
Her majority at the last election was 10,053 whereas this year it was 10,180.

Sheila Boswell increased Labour votes by 2.59% whereas the largest drop was the Liberal Democrats - last election they received 16.9% of the votes , whereas this year it was only 6.35% with 2,717 votes The turnout in Putney of 66.3% 64.4% was an increase of 1.9%.

In Battersea Jane Ellison also held her seat with an increase of 5.68% of the votes. Again the largest drop was the votes for the Lib Dem candidate. In 2010 the party received 14.7% of the votes but this year this has fallen to 4.39%.

Jane Ellison MP speech after results@wandbc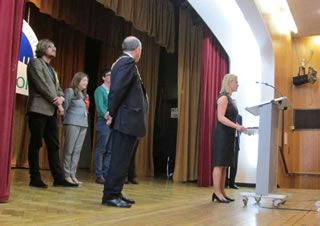 Justine Greening MP speech after results @wandbc
The turnout in Putney was 66.3% and in Battersea it was 67.38%

The three resuts for Wandsworth were the first three London results announced.
May 8, 2010