Justine Greening increases her majority & Jane Ellison wins Battersea from Labour
Residents of Wandsworth SW18 are split between two constituencies; Putney & Battersea and now have two Tory MPs.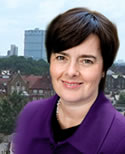 Battersea: The current constituency was created in 1983 with the merger of Battersea North and Battersea South. From 1935 until its abolition, the southern constituency elected Labour MPs. The old northern constituency was held by Labour from 1946 until 1983. Labour at first held the unified constituency too, but in 1987 a swing of 4.6% to the Conservatives gave John Bowis the seat.
In 1997 Battersea's constituents elected Martin Linton for Labour with a 10.2% swing. The 2001 election witnessed a further increase in Labour support. The result in 2005 saw a swing to the Conservatives with Linton returning by 163 votes.
Boundary changes at the election to Battersea have been minimal, with the seat gaining the part of Fairfield ward that was in Putney's boundaries, while losing Wandsworth Common ward to Tooting.
The turnout of 65.7% a rise of 6.5% has followed the national increase in voter participation this year.


Putney:
The constituency of Putney has been held for the Conservatives by Justine Greening who won 52% of the vote, she increased her party's share of the vote by 7.6%. Her majority at the last election was 1,766 whereas this year it was 10,053.
There have been minor boundary changes for this election, with the partial loss of Fairfield ward to Battersea. This was Labour target seat number 31- Labour last represented the constituency under Tony Coleman who held the seat for two parliaments after his famous defeat over David Mellor in 1997.
The "Clegg Factor" has had little effect to the share of votes for the Liberal Democrats which only increased by 0.6% and the Greens saw a reduction of -1.3% of votes away.
The turnout of 64.4% was an increase of 4.6% confirming the national response of increased voter participation this year.

May 7, 2010