As Wandsworth Council Leader also seeks to assuage local fears

Borough Police Commander Peter Laverick has provided reassurance to people in Wandsworth regarding the recent spate of knife crimes.

He says, "There are understandable concerns as a result of the recent murders in Wandsworth, which taken together over such a short period of time has increased the impact. I want to reassure you that your local police are committed and working hard to prevent knife crime. What has happened over the last few weeks is unprecedented. I want to briefly explain current progress and what is in place.
"Officers from the Metropolitan Police Homicide Command continue to work closely with local officers to identify witnesses and pursue enquiries for each of the three murders in recent weeks. This includes ongoing support for the families and friends who have suffered this tragic loss.
"There is regular consultation between each Homicide Senior Investigating Officer, the senior team at Wandsworth Police and Local Authority counterparts with a view to identify any overlaps in the investigations, access local knowledge and coordinate resources. The most recent meeting today (28th April) was also attended by officers from Operation Trident and an Independent Advisory Group representative. Elected members of the council and local MP's will be updated later today.
"As part of the immediate response to the death on Tuesday, the Metropolitan Police Command and Control swiftly deployed officers from surrounding boroughs and the Territorial Support Group (TSG) to assist in accordance with established protocols. These worked with homicide detectives and local officers to help manage crime scenes and conduct enquiries that led to the arrest of two people shortly after. Positive lines of enquiry have also been progressed by the separate investigations into the murder of Malachi Brooks and Mahamad Hassan. Suspects have been arrested in relation to these investigations.
"In the short term Wandsworth will continue to benefit from the assistance of specialist resources, notably the TSG and Police Dog Units. Local resources have also been reorganised to increase the officers available from today and over the bank holiday weekend. These will include officers from the Gangs Unit, other borough detectives and Neighbourhood Officers. Together with specialist resources they will be tasked to visit those offenders with a history of violence including gang members and those arrested for carrying weapons. They will also conduct weapon sweeps, patrol local areas and be in a position to react to any intelligence received.
"Wandsworth is a safe inner London Borough despite the tragic events over the past month. The short term addition of specialist resources will help settle the current situation and Wandsworth will then continue to build on work it has developed over the past two years. This work has included a coordinated approach with local authority officers to divert those at risk of joining gangs; work between gang officers and schools officers and covert operations coordinated with the Local Authority to tackle some drivers of violence such as open drug markets.
"Over the past twelve months this work has led to reductions in crimes of violence where injury has been caused to residents and visitors to Wandsworth. Knife related injuries have remained stable and knife injuries to young people in Wandsworth and has actually reduced.
"The response of the local community in each of the three locations of the recent murders was magnificent. Please continue to assist us. We ask anyone who has information in relation to any of these incidents to contact police.
"For people who prefer not to talk to the police, we are working with the independent charity Crimestoppers and encouraging people who have information about knife crime to contact Crimestoppers instead. There is a £5000 reward for information.
"All calls to Crimestoppers are 100% anonymous. They only want to know what you know, not who you are."

Crimestoppers charity also runs a youth service – Fearless.org – for young people to pass on information about knife crime, again 100% anonymously. The website also allows young people to learn about the dangerous consequences of carrying weapons.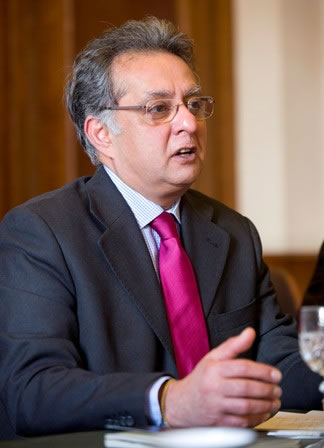 Council leader Ravi Govindia add to Peter Laverick's message with some words of his own: "Wandsworth is inner London's safest borough with violent crimes like these a very rare occurrence in our part of London.
"However the deaths of these three young men is causing unease and distress locally and so it is important for local people to be reassured that all the public agencies involved in tackling crime are working extremely closely together to ensure that those responsible are brought to justice and that all our young people are protected and prevented from becoming either victims or perpetrators of such senseless actions.
"Now it is vitally important that the whole community pulls together to support each other and to also support the police and help them bring these killers to justice. Anyone with information about these incidents must contact the police immediately and pass on what they know. You can also contact Crimestoppers anonymously and in complete confidence.
"It is only by standing up to be counted that we will defeat those responsible for such dreadful and heartbreaking crimes."

April 30, 2017