New menu at Putney's Enoteca Turi continues a tradition of first class, food, wine & service
There is a new head chef in the kitchen at Enoteca Turi - his name is Michele Blasi, an accomplished Chef who has worked in top Hotels and Restaurants in Italy and abroad, exploring both traditional and cutting edge culinary techniques. In 2013 he was in Singapore opening Da Laura Restaurant, and in 2014 after a chance meeting with Giuseppe in London, he was inspired by the mission of Enoteca Turi to bring the traditions of the Italian regional cuisine to a Fine Dining experience and now he is settles in SW15.
With our families over the river watching Fulham play Leeds my friend and I decided we deserved a fine meal, select wines and a good old catch up in the peaceful haven of Enoteca Turi.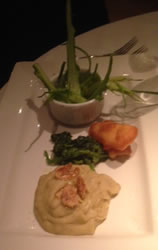 The restaurant was full, but as always the welcome was warm but un intrusive and a glass of Prosecco was enjoyed as we looked at the menu.
My friend chose the Purea di fave con cime di rape, pinzimonio di puntarelle, pizza fritta - a puree of fava beans with turnips tops, broccoli, asparagus chicory salad and deep fried pizza - apparently the pizza "was surprisingly light and delicious!". I chose a brilliant green soup - Minestra alla Lucchese - filled with the flavours and promise of spring, smooth but with some tender peas, broad beans and asparagus.
My photograph did not do it justice!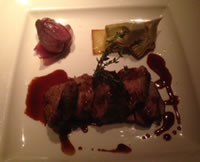 For our main courses I stayed with spring theme and opted for the lamb dish - Noce d'agnello organico con carciofi, patate e cipolla rossa, salsa al Chianti. Tender roast rump of lamb that melted in the mouth, served with artichoke served on potato with red onion, and a rich robust Chianti wine sauce. I chose a glass of the red wine that Guiseppe Turi recommended on the menu - knowing my friend would drink white there was no way we could order a bottle of each and so using Guiseppes guidelines I had a rich glass of Primitivo Salento, a rich fruity red.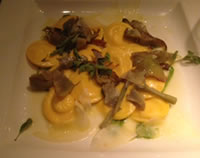 My friend chose Ravioli di cacio e pepe con carciofi trifolati e caciocavallo - a generous portion of ravioli filled with caciocavallo cheese and black pepper, complemented perfectly by the sautéed artichoke and marjoram laid over the top. With so many wines to choose from we relied on the expert advice of our waiter to provide the perfect glass of white wine to accompany it.



No room for a dessert each we decided to share a yoghurt panna cotta with rhubarb compote and sbrisolona (a shortbread biscuit) - we were both so pleased that we did - it was divine, but why did we share!!

Followed by coffee served with truffles and biscuits, we went home having put the world to rights feeling well fed and much happier than the disapointed Fulham fans!
Sandi Bloomfield

March 24, 2015