Speedy Service & Perfect Pizza At Franco Manca
---
Newest pizzeria ticks all the boxes for hungry editors



Number 6........
I am not sure what you call a multiple of editors... it's a murder of rooks, a school or pod of whales but editors? Hmmm I think I am beaten! The three editors from south of the river joined forces to catch up and try out one of SW15's newest eateries and came away satisfied.

The restaurant is light and airy - with simple wooden tables and chairs - be warned no reservations are taken. The staff were attentive but not intrusive, with chilled water at the table within seconds.



No 5 .....

Glancing at the next table we decided that the size of the pizzas would not need a starter so straight to the pizzas.... The menu is simple there are seven pizzas plus two specials * (one veggie one carnivore) on offer daily, salads are only side dish portions and a selection of Italian desserts. * Most of the cheeses used on their specials come from small producers of the British Isles.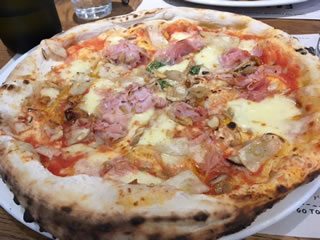 No 4.......(minus ricotta)

My colleague from Wandsworth chose No.6; tomato, dry cured chorizo & mozzarella (£7.55), it was really flavourful with just the right combination of melting cheese and tangy tomato. The chorizo was chunky and not too spicy. Wimbledon's editor chose No.5; tomato, garlic, oregano capers, olives with anchovies and and mozzarella (£7.25) and was impressed by the authentic taste and texture of the base. The toppings were tasty and in just the right proportion to fill her up, with just a bit of crust left behind. Whereas I ordered No.4 which comes with home cured Gloucester Old Spot, mozzarella, wild mushrooms and buffalo ricotta and a little tomato sauce (£7.35) - being difficult I held back the ricotta and so they put more tomato sauce on to keep the texture. - delicious and huge was my reaction, but I did manage to finish it but no supper for me that evening! We shared a chilli dip for our 'Cornicione' - pizza crust to most of us! It was again a generous portion offering a blend of fire and smoothness - we recommend it!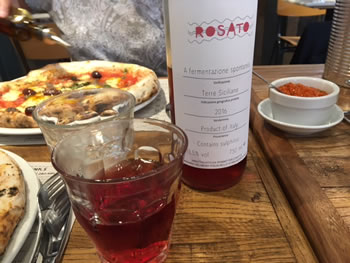 We share a bottle of unfiltered Rossato wine from Sicily - which was a deep pink (nearly red) in colour but dry to taste - delicious £17.55 for a bottle, they serve by the glass and it is only available in the summer. All wines served by the chain are organic.

Franco Manca has a chain of restaurants throughout London and soon to be beyond, they are opening in Oxford. There is also a take away service (collection only). Our neighbours in Southfields and Wimbledon can share the magic at their local.

With its location opposite the cinema and speed of service, I imagine this will become a popular haunt pre and post screenings in Putney - if you, your friends or family like pizza then this is certainly a new asset to Putney.

August 18, 2017