The Widowing of Mrs Holroyd– at The Orange Tree theatre, Richmond
---
An emotional roller coaster pitside drama, writes theatre critic Liz Vercoe
You may think the title gives away the ending but there's far more to this enjoyable emotional roller coaster pitside drama, says Liz Vercoe

It's been a long slow road for women to travel in discovering what it means to be independent, both in mind and life choices, and for men not to be unsettled by it. And maybe there's further to travel. This flawed play, written by the great novelist DH Lawrence, written in 1911, is an ahead-of-its-time observation of a woman instinctively struggling against "knowing her place" and a less-educated man utterly confused by no longer being placed on a pedestal above her bowed head.



Clara (Heather Johnson), Laura (Maggie O'Brien) and Lizzie Holroyd (played by Ellie Piercy)

In fact it was also so ahead of its time in terms of gritty realism that Lawrence never saw it performed, although he was convinced there would be an audience if only a producer would have the courage to put it on. Little did he know it would take until the 1960s, 30 years after his death, for "kitchen sink" drama to be deemed financially viable.

In this first production of new artistic director Paul Miller's tenure at the Orange Tree, we first meet 32-year-old Liz Holroyd of the title, after several years of marriage and two children. As she attempts to dry and press crisp white linens in a dank and rat-infested miners' cottage and with a husband out gallivanting, she wonders how she's come to this.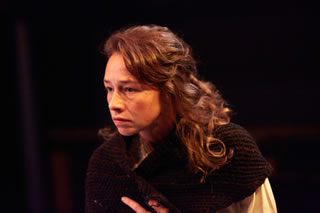 Actress Ellie Piercy looks the part, all neat and careworn, but at first fails to imbue Liz with much sense of a Nottingham life past. It's hard to know her. In contrast, Heather Johnson's comely hussy Clara, who descends on the cottage with Liz's drunken husband (Gyuri Sarossy), having been led to believe he was unmarried, one minute manages to suggest a giggling cloud of alcohol and cheap perfume and then the next hint at her once hopeful dreams before being trapped in a marriage to a recently deceased brute. She offers a sisterly hand to Liz and a sharp palm to Holroyd.

Lizzie Holroyd (played by Ellie Piercy)


Into this mix D H Lawrence stirs the patient and infatuated visitor, 27-year-old Blackmore (Jordan Mifsud) a kind and better-educated man; an electrician at the pits. For months he has silently and increasingly worshipped Liz, but still cannot put the word "love" to his emotions. (Liz appears to be a mixture of Lawrence's ill-used but educated mother and the woman, six years his senior, he eloped with.)

With the crisis of Liz feeling so insulted by her husband's womansing and his drunken rage at her making him feel inferior, the marriage appears about to rip apart and both Liz and Blackmore wish Holroyd dead. At that time, as with Clara's story, a husband's death was often the Lizzie Holroyd and Blackmore (Jordan Mifsud)
only escape, equality for women in divorce not arriving for another 12 years.

But this is not all about women. Lawrence is sensitive to the human tendency to resist the discomfort of feeling out of control and is aware that men for generations were partly protected from this by being able to control their women, especially financially. Lawrence's Holroyd is a hard worker trapped in a hideous job and dimly feels his wife despises him for it. Having never been taught to think, turns to drink. And Rigley (Jamie Satterthwaite), his colleague underground, is at the centre of a fine and painful masculine scene demonstrating how men expect to stand shoulder to shoulder with each other.
Blackmore voices the audience's puzzlement as to what Liz ever saw in Holroyd and adds his nagging doubt that there is somehow something still between them. We and he find out in the second act. The scene where Holroyd's mother (Polly Hemingway) washes the body of the third of her sons to be snatched violently from her is real lump-in-the-throat stuff. And when she hands the job over to Liz we get to know the real complexity and hopelessness of this ill-matched marriage.

With that super-power-emotion "guilt" now brought into the action, against which love, pragmatism, and sincerity can seldom muster sufficient defence, the play concludes with the audience left correctly in the pit-black dark about the characters' futures.

The Widowing of Mrs Holroyd runs until 4 October. For tickets, numbered seating is now offered, call the Box Office on 020 8940 3633 or www.orangetreetheatre.co.uk
All photographs by Mark Douet

Grandmother (Polly Hemingway)
Liz Vercoe

September 12, 2014