A Fun Revival After 33 Years Bewilders Reviewer
---
Liz Vercoe sees Losing Venice at the Orange Tree Theatre in Richmond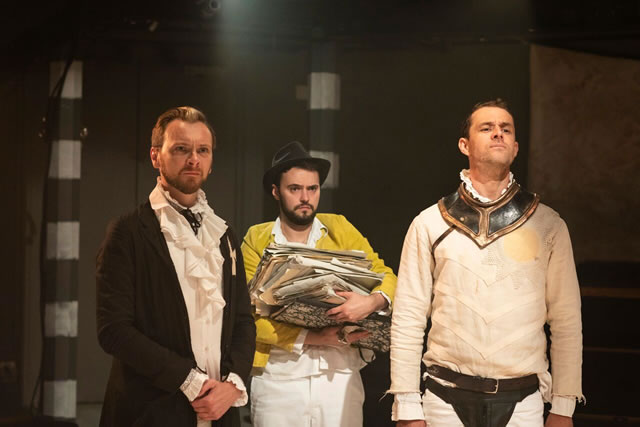 Christopher Logan, Remus Brooks and Tim Delap
Here's a fun revival after 33 years of a play that blitzes together Restoration comedy, farce, warring countries and the battling of the classes and sexes, says a bewildered Liz Vercoe.
This play is a bit like Doctor Who's Tardis, it's bigger on the inside... So much so, in fact, that I'm pretty sure I spotted only a fraction of the ideas being bandied about. Reading the programme wasn't much help, although I now know 110 per cent more about Spain's 16th century Duke of Osuna and the poet Quevedo! Just don't test me.

For theirs is the story that the 1985 play was "loosely" based upon by playwright Jo Clifford, an expert in Spanish and Arabic among her many writing talents. Under Clifford's clever penmanship, these two men's attempts to revive the flagging reputation of the Spanish Empire among its European partners – one through ruthless warfare, the other through satirical attack on Spain's head-in-the-sand leaders – is really only an excuse to throw in lashings of sexual dysfunction and thwarted function, questions about what it means to be a man and what it means to be a woman, and how the elite mess up the lives of the working classes. It's a masterclass in the importance of true self-awareness, whether by a person or a whole country, and how anything less leads to someone, somewhere, paying the price. Ponder Brexit if you wish.



Tim Delap and Florence Roberts

It's also the excuse for deliberately OTT acting and delicious costumes and wigs by designer Jess Curtis that meld together pearls and leather, punk and courtly pastiche. All of which, under the direction of the Orange Tree's Paul Miller brings to life the tics and eccentricities of the characters.

Christopher Logan's Quevedo gets laughs from the opening as his poet's soul is trampled by the necessity of being paid by the line by the thick-skinned and thick-headed Duke. His rhyming-couplet-in-a-doublet style is a cross between Kenneth Williams and Mark Gatiss.

Tim Delap's thigh-slapping, leather codpiece-thrusting Duke is a boy in the outer guise of a caricature male. He's much rather be off to play soldiers and pull off the wings of flies (aka torch foreign villages in the name of saving their country) with the other boys. But he is prepared to shut his eyes and think of Spain in order to consummate his marriage to the virginal and resistant Duchess. What is the point of women? he moans to his poet.

And what is the point of men? asks the Duchess (a wonderful toy-doll-laced- with-poison confection created by Florence Roberts) of her maid Maria. Eleanor Fanyinka's Maria is the voice of sanity running through the play. She's healthily in love with Quevedo's servant Pablo, despite his failings, and attempts to juggle her own needs with being at the beck and call of those round her. (Because of the indisposition of a cast-member on the opening night, Fanyinka also played Sister, a tender creature Pablo wants to rescue from a nunnery in Venice, which gave a nice, if unwritten, symmetry to their development as a couple.)

Duke, poet, and manservant endure pirates and Crete on their way to Venice, a city state that in its own way is as equally lost as Spain, but in which poet Quevedo feels spiritually at home, Pablo is homesick and the Duke drowns in the peaceful soft belly of intellectual ideas and grey areas.

Despite this brilliant, funny cast, there is really too much going on in the lines to work 100 per cent as an evening's light entertainment. But that in itself underlines just how clever it is: the push pull of society between wanting things simple and straightforward (and how the soft life becomes vulnerable to war – or heavy policing – represented by the Duke) and the other side of welcoming the intellectual challenge of living with complexity and nuance but maybe not getting the respect of tougher nations –or trolls – (Quevedo the poet).

It takes a baby in the end to save the day and represent hope for the future and one simple line suddenly seems loaded with meaning: "Oh, it's a girl."

Liz Vercoe

Images: Helen Maybanks


September 21, 2018