Reviewer Finds Martin Crimp's Updated Property Extra Disturbing
---
Dealing with Clair – at the Orange Tree Theatre, Richmond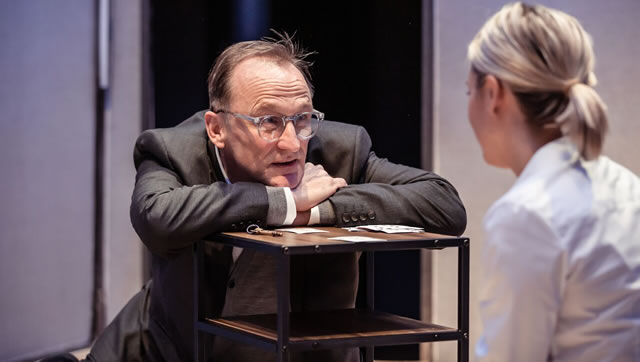 Michael Gould and Lizzy Watts
Viewing playwright Martin Crimp's updated property proves extra disturbing given the current background of further investigations into the unsolved disappearance of young estate agent Suzy Lamplugh, says Liz Vercoe.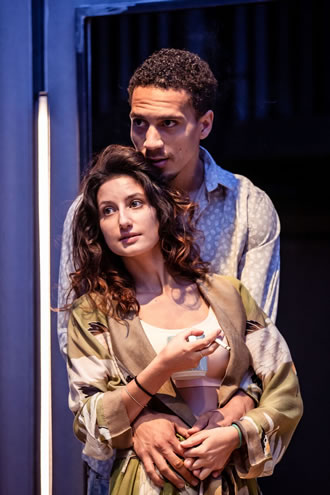 Roseanna Frascona and Gabriel Akuwudike

Oh the nice middle classes, with tidy, polite behaviour and renovated houses and an abhorrence of (other people's) noise and of litter. Who believed in trusting people until, in the mid-1980s, they stumbled into a lenders-fuelled property boom and discovered a few less than edifying things about themselves when tempted by rocketing prices for their bricks and mortar. Martin Crimp's 1988 play poked and prodded at a society that was losing its structural integrity as property became king.

As it is in 2018 if you own rather than rent. And so here, in a plot updated from the original by adding an extra zero to all the property prices, we meet ambitious agent Clair (Lizzy Watts), who's made her own property investment in the shape of a studio flat beside a railway noisier than Heathrow. Her clients are an educated but soulless couple Liz and Mike (Hara Yannas and Tom Mothersdale) who want to cash in on the rapidly rising prices of property in their street thanks to the recent eviction of the wrong sort of renters. With their belief that style comes in the shape of balloon sized glasses of white wine and being snide about the au pair, these are the sort of people that gave yuppies and then dinkies a bad name. Today they are just despicable. However, apart some pointers to Mike's trouser-centric attitude towards women, they are the least interesting part of this play.



Tom Mothersdale and Hara Yannas

Back in 1988 the story drew heavily on the well-known facts about the disappearance of Suzy Lamplugh just two years earlier, even a suspicious BMW was written in. Audiences at the time were very well aware that the pretty property negotiator had set off to meet a client to view a house in up-and-come Fulham and was never seen again. So the, rather unnerving, coincidental re-emergence of the case this month puts audiences in a very similar position.

Here, when Liz and Mike's inflated asking price is met almost too fast, it gives them the idea that perhaps Clair can find them a better buyer, perhaps one willing to gazump their initial buyers. While they convince themselves it was her idea and therefore moral, she introduces a new buyer. Smooth-talking James, cash-rich and desperate-to-buy, is just the man. And from the moment he steps on stage, actor Michael Gould turns James into one of the most chilling creations the Orange Tree has let loose on its audiences. Just his description of driving off a main road into deserted, sound-absorbing pine woods of the Pyrenees makes the hairs rise on the back of your neck while still managing to sound like an advert for the French tourist board.
His exchanges are always slightly "off", but by such a tiny margin that it's totally believable that Clair doubts what she thinks she's just heard, especially with the potential of a big fat commission deafening her. Gould's performance is worth the ticket price on its own.

Which is good news as the play and production have weaknesses, and not just the Boeing 747-scaled sound effects. Feisty Clair doesn't seem really under enough pressure to complete the sale to account for her tolerance of James. The addition of a jobbing builder, an au pair and her boyfriend seem super-numerous to the plot, not even serving up a red herring or two. But mainly the play doesn't seem to know how to end. For the first 90 minutes the performance is neatly set, by designer Fly Davis, inside a mesh "box" as a way to suggest rooms, private spaces, secrets and voyeurism. Until it is all ripped down by an unleashed James...who has unbelievably failed to come to the attention of the men in white coats or the boys in blue. This moment of high drama then leaves the conclusion of the story to trail away in the grasping hands of the despicables... who still fail to say anything really meaningful.


Liz Vercoe

Images: The Other Richard


November 7, 2018