Don't Miss Out On Laughs Scattered Like A Festive Tin Of Quality Street
---
The Double Dealer – at the Orange Tree Theatre, Richmond


Zoë Waites (Cynthia) and Jonathan Coy (Lord Touchwood)

Don't miss out on the laughs scattered like a festive tin of Quality Street in this 350-years-young Restoration romp
Oh what a feast of ridiculous delights this is, echoing down the years from the early 1690s when a 22-year-old playwright, William Congreve, decided to turn theatre-going on its head. Instead of extravagant lush scenes that transported audiences, he offered up a single-set comedy where every word drips with meaning like fat candles on a thesaurusan chandelier.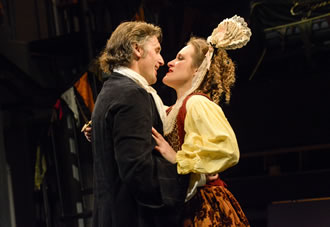 Edward MacLiam (Maskwell) and Zoë Waites (Cynthia)

All is charming and innocent to start with. We are here to celebrate the eve-of-wedding of true-lovebirds Cynthia Plyant and handsome Mellefont, heir to his uncle Lord Touchwood. Thanks to a new, ear-sharpening prologue written by director Selina Cadell and music arranger Eliza Thompson, we the audience receive our invitations and are warned that Cynthia and Lady Touchwood, Lord Touchwood's second wife, are played by one and the same actress (and that there will be an awful lot of other confusion before we go home!).

And then we're off at a gavotte.

In the 17th century clever use of language impressed greatly those with less facility and/or smaller vocabularies (rather as Jacob Rees Mogg and Boris Johnson have discovered in 2018). Despite verbally creating smoke and mirrors, the silver tongued were put on pedestals. And Congreve used that very weakness to shine a delightful light on his characters' personalities.
For example, we have Mellefont's sidelined friend Brisk, as puffed up as a peacock in compensation for his lack of wit. Jonathan Broadbent's Brisk struts and preens and stumbles over his epigrams in his attempts to woo coquettish Lady Froth – played with leggy-llama-like grace by Hannah Stokely – away from her endangered species of a husband (Paul Reid). By Gad, the three of them are a match made in the Oxford English Dictionary!



Dharmesh Patel (Careless) and Lloyd Everitt (Mellefont)

Elsewhere Mellefont's wiser friend Careless (Dharmesh Patel) hilariously starts to run out of words to flatter, in his prolonged attempts to seduce Jenny Rainsford's impenetrable (to her husband, at least) Lady Plyant. Her protestations of purity to the men she really, no, make that REALLY, desires are given exquisitely funny double meaning by her body language spelling out a very different interpretation.

Zoë Waites proves mistress of both linguistic dexterity and the rapidly removable overskirt, alternately as Lady Touchwood setting out to seduce Lloyd Everitt's fine-minded and fine-limbed Mellefont and then as demure Cynthia oblivious of both the mayhem surrounding her and the villainous passions of smooth-talking, and even smoother-lying, Maskwell (Edward MacLiam is thoroughly convincing as seducer and fraudster). Why, he (channelling Congreve) asks an audience battered by charges of fake news, are human beings so willing to be deceived? Good question after 350 years. Of course, eventually he has his comeuppance as scales fall from variously lustful or too-innocent eyes.

This is a cast, that also includes massively experienced Jonathan Coy as Lord Touchwood and Simon Chandler as Sir Paul Plyant, at the top of its game, able to squeeze every line for its "ridiculous" potential. All in all it's perfect winter fare: as cosy as crumpets and really not to be missed. It may not be for the kids but it's the best panto adults will see this Christmas.

Liz Vercoe

Images: Robert Day


December 13, 2018