Perfect paneer and patra at High Street's new restaurant have Penny Flood hooked
Pure is a modern Indian restaurant, and if the name sounds familiar that's because it's been set up by Shilpa and Faheem, the husband and wife team behind the popular take-away in Putney.
Now they've decamped to the other side of the river to take the next step and open a restaurant. But don't worry, they're only just over Putney Bridge, and if a trip north of the river is a trip too far they still do a take away service.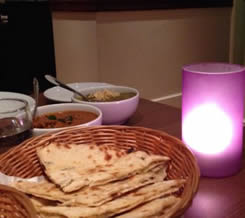 Front of house is managed by Faheem and Shilpa manages the kitchen. She has worked in Michelin starred restaurants in Indian, including the Taj Group, and also for Raymond Blanc, and the quality shines through in her cooking.
Pure's mission statement is to serve authentic Indian food with warm and friendly service. and they've achieved that. The food isn't the regular Indian restaurant fare, they serve the food they used to eat back home in India, cooked in a traditional style with spicing that's mild to medium rather than hot. This doesn't mean it's bland, just your that taste buds won't be numbed by too much chilli.
I went with two friends, one a vegetarian like me and the other a meat eater so we could give a fair comment on everything they have to offer. Putney regulars may be familiar with the menu, but for those of us coming new to it , it was a bit of a revelation. Not a lot was familiar which made it a of a culinary adventure.
I got there first so ordered some papadums while I waited. Surprise number one. Instead of a couple of big crisps these were a dish of little fluffy, crispy papadums with two dishes of sauce and not a scrap of mint yogurt in sight.
Then the others turned up and we got down thinking about what to eat. To make it easy and to try as much as possible - it was research after all - we asked for a selection. For the vegetarians it was Patra Chat, Crispy fried paneer, and mushroom and artichoke patties called tikki. For the meat eater it was herb crusted scallops with chicken tikka.
Patra is a plant from western Indian, and I think it's absolutely delicious. You don't see it on menus very often, I've had it before but I can't remember where, it might have been in India. The best way to describe it is as a deeply flavoured, thick crispy leaf. The other vegetarian liked it although the meat eater, who is less amenable to new non-meat tastes wasn't so sure.
And the crispy paneer, what can I say. I love paneer and a restaurant can stand or fall in my opinion by it's paneer and this one passed every test. Paneer with curry leaves and sweetcordn kernals rolled into the balls, covered with cracked vermicelli and fried. They were so good I took some home with me.
Main courses were baigan bharta, roasted aubergine with tomatoes and onion; dhal makani, slow cooked black lentils; aspargus and pine nuts spice with mustard coconut for the veggies with seabass coconut, massala and coconut lamb for our friend. The seabass was wolfed down but the lamb was declared a little under spiced, the only vaguely negative comment of the entire meal.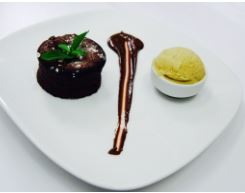 Deserts were a cinnamon flavoured dark chocolate fondant with pistachio ice cream and a trio of baked yogurts - orange, lychee and pistachio. We were struggling a bit by them but we managed to polish them all off. The yogurts were light and delicate, just right after a big meal, and the chocolate fondant with the ice cream was as wickedly indulgent as it should be.
Prices are reasonable with the starters around £7. The mains start at £11 going up to £15 for a house speciality of cod marinated in tamarind, dates and chilli with corn chaat. There's a good choice of wines with most prices in the mid - twenties but you can pay more if you want to splash out.
This is grown up, sophisticated India cooking served in a grown up sophisticated but relaxed environment, and I can't praise it highly enough. Try it once and my guess is you'll be hooked - I know I am.
Pure is at 67 Fulham High Street, SW6 3JJ. Tel : 020 7736 2521 or 020 7834 2165 or
email: info@pureindiancooking.com.
Opening times:
Lunch
Monday – Friday: 12pm to 2.30pm
Sunday : 12.00 to 3.00 pm
Dinner
Monday – Saturday: 6pm to 11pm
Sunday : 6pm to 10.30pm
Delivery areas:
SW15, SW14, SW13, SW6, SW18, SW19
December 2, 2015