The Stepmother
---
Penny Flood reviews the latest Orange Tree production


The sad thing about this play is that the writer, Githa Sowerby, isn't here to see it in its revival at The Orange Tree. Its first production in 1924 received only one private performance in the West End. Although it was well received, it was shelved until now. Sowerby died in 1970 believing her work had been forgotten.

This is an engrossing play that takes an uncompromising look at the options - financially, legally, sexually - open to women in a man's world between the two world wars. A theme that's interweaved with some intriguing sub-plots.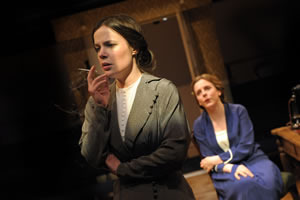 Katie McGuinness (Lois) and Joannah Tincey (Mrs Geddes)

The stepmother of the title is Lois (Kate McGuinness), a teenage orphan who comes into a lot of money. She's tricked into marrying a much older man Eustace (played impeccably by Christopher Ravenscroft). He's a talented but unscrupulous charmer whom she trusts to take care of her and look after her money. Of course he doesn't but Lois, conditioned to believe that men should be respected, is too naïve to have a clue about his real intentions.

Her world falls apart when one of her stepdaughters wants to
get married and she needs money. It's easy for a 21st Century audience to want to scream 'wake up and smell the coffee' but it wasn't like that then. In those days it was unheard of for women, particularly one as young as Lois, to question their menfolk. And this is the world that Sowerby vividly and sympathetically brings to life.
Katie McGuinness (Lois) & Jennifer Higham (Monica)

Interestingly, Lois isn't a docile stay-at-home housewife: she runs a very successful dress-making business but realises far too late that her wretched husband has been living on its profits. The clever way the play is structured means that we know this long before Lois does.

What makes this play so interesting and important is that Sowerby was writing from her life and from her heart. Her father, who seems to the model for Eustace, lost three fortunes including her mother's inheritance and then disappeared leaving his family to fend for themselves.





Katie McGuinness (Lois) and Christopher Naylor (Peter)
And, like Lois, Sowerby was a career woman: a successful children's author and playwright whose play Rutherford & Sons was a triumph when it opened at the Royal Court and in many subsequent revivals.
While the Orange Tree must be praised for bringing The Stepmother back to life, it's not a perfect production. It drags at times and was not written to be played in theatre-in-the round, as at the Orange Tree, which makes it a bit awkward in places. But don't let that put you off as there is so much more to praise.

Hopefully it won't be another century before the play is seen again. But in case it is, don't miss the opportunity to see it now.

The Stepmother runs at the Orange Tree until 9th March. All photos by Robert Day

Penny Flood

February 15, 2013