Annemarie Flanagan urges everyone go and see this captivating production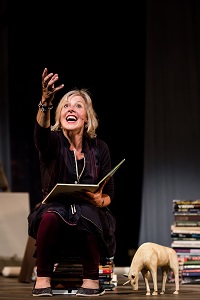 Forget the panto - if you only get the chance to see one show this holiday season - you MUST go and see this.
Best selling author, Michael Morpurgo's marvellous story is brought to life within this intimate Richmond theatre venue.
It's the tale of the power of books, and the bravery of a young boy called Tomas. Tomas hates reading and school, but his world is turned upside down the day he meets the Unicorn Lady in his local library.
The production is totally unique and all credit must be paid to wonderful designer Kate Bunce, the Director, Dani Parr - Sound, Martin Thompson, Lighting, Will Evans and Projection Arnim Freiss.
The simple stage set uses props in a highly inventive and imaginative fashion and as an audience we were rivetted. The technical team have all played their part in making this a most remarkable and magical production.
But without a doubt it's Danyah Miller who is the ultimate star, she plays an absolute blinder in this essentially one woman show and owns the stage. Totally mesmerising, with a warm and friendly manner, she has a wonderful acting talent that will have you both laughing and shedding a tear in a very short space of time.
Both youngsters and the more mature in the audience were absolutely gripped by her energetic and convincing performance as she took us on an hour long interactive journey full of enchanting stories.
Michael Morpurgo himself has said '' Danyah's performance is a tour de force. The show is moving and memorable, a glorious example of the magic of storytelling. I didn't like it, I loved it!' No greater praise indeed.
I thought it was a fabulous touch to have a book swap at the end of the show - young audience members are invited to bring along a favourite children's book to form part of the set and then swap at the end for another book. There were lots of eager youngsters excitedly claiming theirs - a great testament to both this production which helped ignite their enthusiasm and of course the power of a good book.
This is a superb family show for Christmas. It's recommended for over 6s (there are some slightly darker moments that could upset smaller ones) and I would have no hesitation in urging everyone to go and see it.
Anything that can keep my fidgety eight-year-old glued to his seat gets the big thumbs up from me.

I Believe in Unicorns, won an Argus Angel Award for Artistic Excellence at Brighton Festival, it's running until 9th January - don't miss it.
Annemarie Flanagan
December 23rd 2015