Ladies Lunch At Wallace & Co
---
Autumn sunshine plus fine wine & substantial 'small plates' left all smiling
Combining lunch with work meeting was a pleasant alternative to coffee in a crowded coffee shop and with the knowledge of the current wine offer the three of us booked a table at Wallace & Co.

The welcome was as warm as the autumn sunshine and we took an outside table. Taking advantage of their 'Buy 2 large glasses of wine and get the rest of the bottle free!' offer* we chose a crisp Robertson's Chenin from South Africa @ £7.65 a large glass (the bottle would normally cost £22).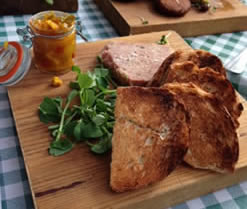 Wallace & Co have an extensive menu ranging from a breakfast menu that could tempt even the laziest teenager out of bed for a late one, to grills and generous mains ranging from £9.95-£16. We opted for the 'Small Plates' menu, fourteen choices similar to the Spanish tapas concept.

The portions are generous and on advice we ordered three small plate plus one mezze board to share. The ham hock terrine (front of picture left) with home made piccalilli (£5.50) melted in the mouth and was served with granary toast. The Mezze board to share had falafel, hummus, baba ganoush, tzatziki & toasted flat breads with cornichons and olives (£8.50) - all delicious.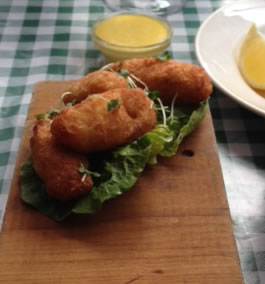 The salt cod fritters (£5.75) (pictured right) came with aioli, there were four salt cod fritters, which was just enough for lunch along with the mezza accompaniments. The aioli was rather moreish and went well as a dip with the flakey cod.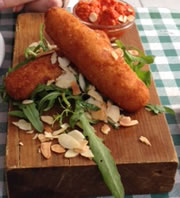 The sweet potato & goats cheese croquettes (£5) were served with a romesco sauce (a Catalan sauce made of red pepper, almonds, bread and good oil) and rocket with grilled almonds. The croquettes proved to be that rare combination of light but filling, with the rocket and almonds adding just the right amount of zing and crunch.

No room for any of Gregg's Puddings - we simply opted for coffees (prices range from £1.75 - £2.50). and the bill. The final cost for three including service was £55.6September 26, 2013 October

September 26, 2013