Every panto cliche is tried and tested in this year's seasonal show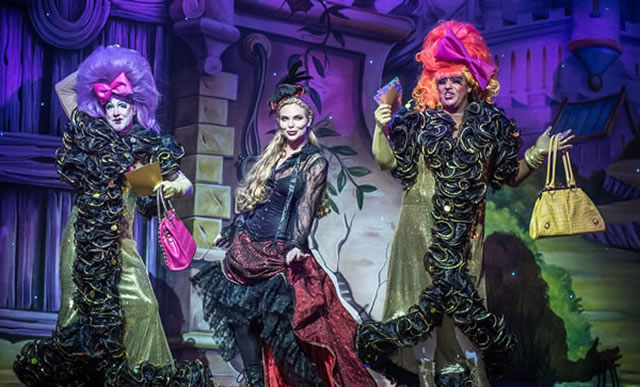 The annual pantomime at New Wimbledon Theatre is always a feast for the eyes and ears, with a dusting of stardom and a cheery wordsmith to charm the audience.
This year's production of Cinderella doesn't drift far from the standard formula, with the star names covering a range of ages and genres. Ex-EastEnder Samantha Womack was a convincing 'villain' in the shape of Baroness Demonica Hardup.
She is pictured above with panto dames Leon Craig and Bobby Delaney as sisterly double act Verruca and Hernia. While they were not quite as domineering as previous Wimbledon dames, such as Paul Merton, Matthew Kelly and Clive Rowe, they put on a perfectly competent performance, aided by some striking costumes.
No panto cliche was left unturned, with the local jokes about Wimbledon and surrounding areas such as Raynes Park, Mitcham and (as ever) Croydon featuring right from the off. As a long-standing Wimbledon resident, I can't be the only one to be fed up with jokes about Wombles and tennis rackets. But the fast-moving script soon moved on, with the arrival of Pete Firmin in the shape of Buttons bringing smiles and cheers from the packed audience.
He was one of the highlight's of last year's Aladdin pantomime, and was even more central this year. Quite simply, the show would not have worked without him. While his apparently impromptu magic tricks broke us away from the thin storyline, they captivated most of the panto-goers and were one of the most memorable aspects of the evening.
He also took charge of the audience participation segment and could have landed lucky with three entertaining children, who gave us all another smile.
Just when the cliches seem to have disappeared, up pops former opera diva Lesley Garrett as Cinderella's Fairy Godmother. I did wonder if many of the opera references went over the heads of some of the audience, but she was a charming fairy and her soprano segments were a contrast to the music in the rest of the show.
Cinderalla was played by former Pussycat Doll Melody Thornton, and her American accent seemed slightly grating at first. But she could also hold a tune, and her 'flying' golden carriage was one of the show's main 'wow' factors.
The panto included some lovely performances from children from the Arnould School of Dance and Drama. Will Jennings as Dandini drew plenty of laughs, and Edward Chitticks as a dashing Prince Charming made up the main cast members.
While this version of Cinderella is no match for the 2014 version, it doesn't feel like Christmas until you've been to the panto at New Wimbledon Theatre, and this one ticks all the relevant boxes. It runs until January 5, 2020.
By Sue Choularton
December 13, 2019