The mental health charity CLASP is organising its second Walking out of Darkness event on May 16th.
The 10-mile walk will take place during National Mental Health Awareness Week and will spotlight the stigma and discrimination faced by those experiencing mental illness.
Wandsworth council is keen to raise awareness of an issue that affects a fifth of borough residents at any one time. Mental health problems such as anxiety and depression are common, but it is estimated that only one in four get the support they need.
Each year, about 20 residents end their lives. With the right help and support the council believes many of these deaths could be prevented. Wandsworth's public health team is working closely with partners from across the borough with the ambition of dramatically reducing suicide rates.
Walking out of Darkness starts on the South Bank and passes some of London's most iconic landmarks, including Tower Bridge, the Tower of London and the Houses of Parliament before ending up in Battersea Park.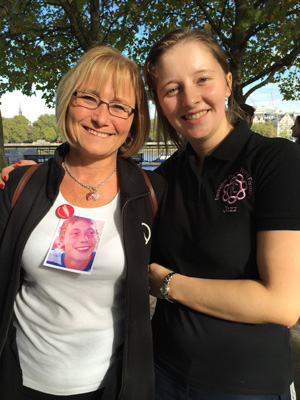 The picture shows Lynette Weare and her niece Jasmine at last year's walk. Lynette wears a picture of her son, Sam, who took his own life at the age of 24. Lynette has a Just Giving page


In the park there will be a chance to relax and listen to influential speakers, enjoy the live music and get information on mental health. Food and drink will be available, plus activities for families.
For more information and details on how to register visit the CLASP website
If you are concerned about mental illness or suicide call the NHS 111 Helpline or speak to your GP immediately.
Further information on local services can be found on the council's Adult Care Information Service or the Wandsworth Wellbeing Hub.