Road users and pedestrians across Wandsworth should see improvements to road surfaces and footpaths as part of the Council's ongoing £5m neighbourhood investment programme which is currently underway.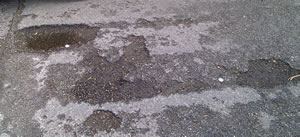 In the 12 months leading up to April 2018, dozens of residential roads across the borough will be completely resurfaced. £3m has been set aside for this resurfacing work and will see nearly 40 important and busy local roads given a facelift.
This includes additional extra money on top of the borough's pothole repair budget which for this current financial year stands at over £1.5m. Since April 2012 the council has spent £3.4m fixing potholes and keeping more than 230 miles of road surfaces in a good state of repair. Over this time period nearly 35,000 potholes have been fixed.

The Council says that keeping pavements and footpaths in good order is also a priority. Last year it spent £1m relaying pavements and this year this amount is being doubled to £2m, which will fund the renewal of entire pavements in more than 30 local residential roads.
In addition to new pavements another 150 street trees will be planted in residential areas this year. There are around 16,000 street trees in the borough of Wandsworth.
A further £340,000 has been received in the form of a grant from Transport for London which will be used to fund road resurfacing in Garratt Lane and Falcon Road.
Transport spokesman Cllr Jonathan Cook says, "Dealing with worn out road surfaces, repairing potholes and renewing pavements makes travel in all its forms safer for residents across the board whether they are walking, riding or driving."
Residents can report potholes or broken pavements via wandsworth.gov.uk/potholes or by emailing onstreetservices@wandsworth.gov.uk.