New Tara Arts Building Due By End Of Year
---
As the basement is dug the theatre company goes on tour
Earlsfield's Tara Arts is now well into its year long project that will see its premises in Earlsfield transformed into a new national hub for the production and presentation of cross-cultural theatre, as well as offering a welcoming location for the local community.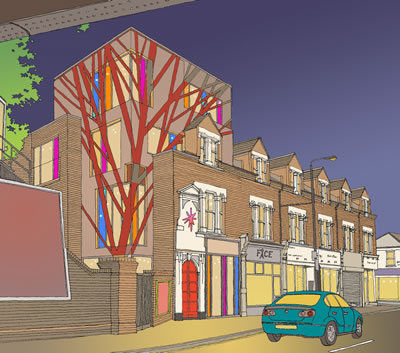 The new building, on the site Tara Arts has occupied since 1983, is due to open this December and will offer:
• A centre of excellence for cross-cultural theatre, with a building inspired by a fusion of architectural styles from England and India
• A programme of theatre that will offer audiences from across London the best cross cultural contemporary & classical theatre, including work created on the premises
• Inspired by outdoor performance spaces in India, the first-ever 'earth stage' floor in Europe, in a 100-seat auditorium, an 84% increase on current auditorium capacity
• A dedicated space for artists to develop and share new work, with a particular focus on BAME artists
• Space for local community groups to develop their creativity and for local entrepreneurs to host meetings in a unique environment
• A fully accessible building with an enlarged foyer including a café/bar available to the local community and box office facilities open through the day

The new building will be contemporary in design, but draw on the building's current Edwardian structure and will be energy-efficient, facilitating a 27% saving in energy costs, using sustainable materials throughout.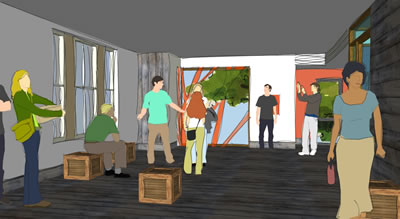 Above: the new rehearsal room

During the closure period, Tara Arts is focussing on touring, including Black Theatre Live, a recently formed consortium of eight regional venues that will work to ensure sustainable touring of BAME theatre across England. And this month the tour comes to London with the Indian-influenced Macbeth directed by Tara Arts Artistic Director Jatinder Verma. For booking details go to this link.

Tara Arts Artistic Director Jatinder Verma said, "While work on Tara's new theatre continues apace, with a new basement level being dug, we've been busy touring our production of Macbeth around the country - and have returned to London for performances in Stratford. We look forward to seeing our loyal audiences during the run of Macbeth and to welcoming them to the new thatre at the end of the year."

The venue will reopen in December 2015 to host Tara Arts annual pantomime followed by the launch of a new season to include new work from Tara Arts and visiting companies.
The building project has been supported by Arts Council England, Viridor Credits, Foyle Foundation, City Bridge Trust, Cockayne Foundation and over 1,400 individual benefactors.


March 24, 2015