Ravi Govindia, Leader of Wandsworth Council, last week viewed progress of Mount Anvil's Filaments scheme, on track to deliver hundreds of new homes, as well as retail and commercial space, by summer 2015. The visit comes as the first wave of private homes released to the market in May are on the verge of selling out, with only a handful remaining within the Copperlight building on Buckhold Road.
The Filaments is a key component of the wider £1 billion regeneration effort underway in Wandsworth town. Construction on the scheme began in 2011, and more than 400 workers are currently operating on site.

In addition to the much needed 416 new homes, Mount Anvil will be providing 5,410 square metres of innovative new business space to Workspace plc. This will create new office accommodation for up to 120 local businesses and will be particularly suited to the creative, media and technology sectors.
The project has been designed by architectural firm Rolfe Judd and will also feature two new public footpaths connecting the development to the town centre, as well as landscaping.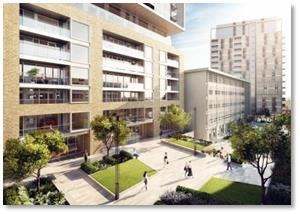 Clive Fenton, Chief Executive of Mount Anvil, said: "We are delighted to welcome Council Leader Ravi Govindia to The Filaments, and provide the chance for him to see first-hand the exciting scheme we are creating here. The Filaments is playing a critical role in helping to further the regeneration effort for Wandsworth, and promises to create an outstanding addition to the local community through new homes, jobs and space for businesses. We are proud to have a part to play in the borough's exciting transformation."
Ravi Govindia said: "The Filaments is an essential component of the wider regeneration effort underway for Wandsworth, providing hundreds of new homes and jobs for local people. It also promises to bring life and activity to a previously cut-off part of the town centre through continued collaborative efforts and Mount Anvil's contribution will help to redirect the one-way traffic system in the future. As well as making the area an even better place to live, this transformation will also further establish Wandsworth as an attractive base for shops and businesses and an increasingly appealing destination for visitors. I'm very pleased to support this important project, and to see its outstanding progress."
For more information about The Filaments visitt www.thefilaments.co.uk/