Celebrations at Carnwath Road as first 5km stretch of Tideway Tunnel is completed
A giant boring machine named Millicent completed the first section of the Thames Tideway Tunnel when it reached the finishing line in Fulham's Carnwath Road last Friday, 22 November.
Millicent, one of four tunnel boring machines, or TBMs, currently at work deep below London had completed a 5km section of the tunnel under the Thames between Battersea and Fulham.
As well as Millicent, Ursula, the TBM creating a central-London section of the super sewer between Battersea and Bermondsey – is nearly 3km into its journey, having passed Parliament – as well as Vauxhall, Lambeth and Westminster bridges – and soon the iconic London Eye.
The TBM building the western section of the tunnel, named Rachel, is more than 1.5km into the journey from Fulham to Acton and a smaller TBM named Charlotte has completed the southern section of a connection tunnel linking Wandsworth to the main tunnel.
Altogether this means 10kms of the tunnel has now been completed.
Earlier this month, Tideway launched a new, interactive map that shows the location of its four TBMs, which are all named after inspirational women who lived or worked near Tideway sites.
Rachel is named after Rachel Parsons, pictured on the right, the founding president of the Women's Engineering Society and a former Fulham resident, while Charlotte, digging the Frogmore Connection Tunnel from Wandsworth to Fulham is named after French suffragist Charlotte Despard,
Two more TBMs will be joining them in 2020.
You can check out the map here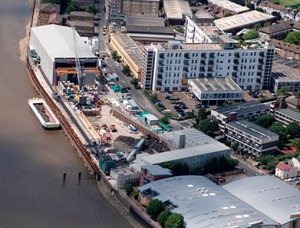 The site at Carnwath Road
December 2, 2019