New report shows that over 200,000 hours given freely each year in the borough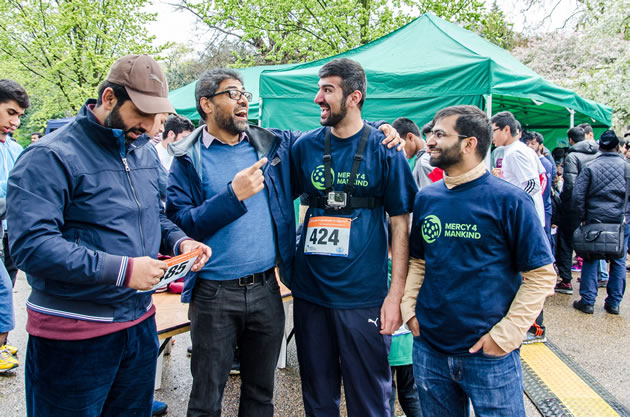 Volunteers from the Ahmadiyya Muslim Association
A new report into the social impact of volunteering by members of faith groups across Wandsworth has shown that the value of the time given is equal to at least £3 million per annum.
The study by Eido Research is based on interviews with 95 faith-based organisations within the borough between October 2017 and January 2018. Nationally over £3 billion worth of time and resources is given by religious groups and this report looked in detail at the contribution made locally.
The study found that over 90% of organisations volunteer to help their community, with a total contribution of 430 projects serving 70,000 beneficiaries. This occurred through 340 paid staff activities, 3,500 volunteer roles and 270,000 hours per year over 200,000 of which were freely given. The time volunteered was valued on an hourly basis on the London Living Wage and did not include time spent on specifically religious activities.
Over half of the time given was to support local community groups such as those supporting the elderly or children and an estimated 28,000 benefited from the activities of 230 different groups. The next three most popular activities: training/coaching and counselling, providing food and housing, and groups for children and youth, all had between 40 and 100 projects each invested.
Over 80% of the groups were Christian which is in line with the proportion of the local population who declared a religious affiliation in the last census. 5% of activities were from Muslim organisations.
The many activities listed in the report included that of St Anne's Church, Wandsworth which organises prison visiting services, regular Sunday lunches for the elderly support for the Glassdoor homeless charity, sponsored sleep ins and a toddler group. The Ahmadiyya Muslim Association UK holds a careers fair, charity fundraising and organises interfaith football tournaments. St Joseph's Catholic Church, has a Christmas lunch for the elderly and organises visits to the hospital. Wandsworth Quakers hold school visits, MacMillan Coffee afternoons and host an Open House event.
The report recommends a series of action to increase the effectiveness of the work of faith based groups including the establishment of a community transformation board which would enable better support, central planning and strategic thinking for volunteering in Wandsworth. The results show that while there is a great range of activities provided, activities relating to community life are given much more time than social inclusion, social action or healthcare. These activities are likely to be more challenging for religious organisations to set up and are more time intensive in terms of the level of support needed by individuals. Partnership working was also encouraged as was the provision of more professional support to volunteers.

July 9, 2018