As Campaigners descend on Town Hall to celebrate the move
A climate emergency was declared by Wandsworth Council at the Town Hall on Wednesday evening (17 July).

At a meeting of the full council, Council Leader Cllr Ravi Govindia laid out his ambition for the borough to play its part in tackling climate change – with the goal of being carbon neutral by 2030 and a zero-emission council by 2050.
He said, "The threat of climate change to our environment is one that none of us can take lightly. It is a threat to our way of life for us and future generations.

"Councils therefore must join the fight to address the drivers of climate change. We need to do our bit to stop the huge impacts on our environment and begin the process of reversing the damage. This is something I feel passionate about."
Prior to last night's meeting the Wandsworth Green Party had sent a message to councillors, "Residents from Battersea to Putney to Tooting are putting their faith and trust in you and all your councillors and officer colleagues to take on this enormous challenge and to commit to doing whatever it takes to achieve it."
The campaign to make this happen was started by the local green party led by their parliamentary candidate for Tooting, Glyn Goodwin, but then extended across party lines to secure a consensus. Over 12,000 local people signed a petition which was presented to the Council last May asking them to make this move.
Many of the signatories of the petition were under 18 which the council allowed in this instance because of the impact climate change is likely to have on future generations.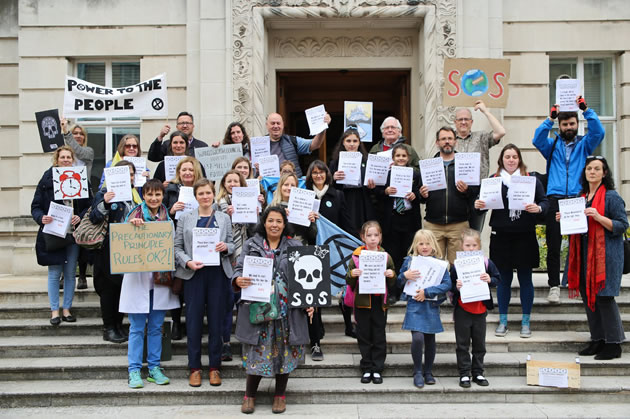 Constituency Lead for Putney & Southfields Wandsworth Green Party, Di McCann, told this website at the time, "Since the petition started in early February, Extinction Rebellion, Greta Thunberg and Sir David Attenborough have catapulted the climate crisis into the mainstream news almost every day. Ordinary people are talking about it like never before and demanding that our politicians act because the issues are too big for individuals to solve by their actions alone. We know this because 12,300 people have signed this petition.'
The Green Party say the knowledge, skills and technologies exist to do reach this target and that there is a tremendous amount of help and advice available, from many of the participants of The 10,000 Big Chat and Extinction Rebellion Wandsworth, who hope there will be an opportunity to help, advise and feed in creative ideas.

Cllr Govindia also said at the meeting last night: "We want to see this borough moving in the right direction in the fight against climate change and going forward no area of council life will be left unchallenged. By being creative and practical across all parts of the council we will be working towards the goal of cutting emissions and reversing climate change.
"I will be personally driving this work and I know Wandsworth residents will want to help and play their part in achieving that goal. Together I am confident we can reach our target of being the cleanest and greenest inner London borough."
More than 100 UK and London councils have now declared a climate emergency, Richmond last week and Croydon on Monday being just the latest, and various of them have vowed to become the 'greenest London borough'.

July 18, 2019