Young people in Wandsworth with a passion for performance, music or arts are invited to audition for the 2011 Young Performer competition.
The event is run by the council's arts team in partnership with Battersea Arts Centre, Bigga Fish and the Wandsworth Youth Service. It is open to 14 to 19 year olds who live or work in Wandsworth, or go to one of the borough's schools or youth clubs.
The competition is an opportunity for singers, poets, dancers, musicians, bands, comedians and any other performers to showcase their talents live on stage.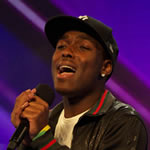 Previous participants include this year's X Factor contestant Derry Mensah. (pictured left during X Factor).
Joshua Osho, who scooped the Young Performer title in 2006, went on to perform at venues all over London and won the 'Talent Lives' competition run by Transport for London and Bebo.com. He is now on the brink of an exciting music career, with international music management agencies showing interest in his work.
Bigga Fish, a not for profit youth organisation, is offering exciting opportunities for young people to gain knowledge and experience in the promotion, marketing and production of the event.
Auditions are free and managed on a first-come, first-served basis. They will take place:
TRC, Alma Road, SW18 1AQ
Thursday 20 October 5 – 7:30pm
Tooting Hub, Beechcroft Road, SW17 7BU
Saturday 29 October 12 – 4pm
BAC, Battersea Arts Centre, Lavender Hill, SW11 5TN
If selected to go through to the next round you need to be available for workshops and rehearsals on Saturday 12 and Saturday 26 November. The final event will be on Saturday 10 December at Wandsworth Civic Suite, SW18 2PU.
In 2010 almost 200 young people took part in Young Performer, with the 1st prize leading to performance opportunities across the borough.
Prizes this year include a tailored package of professional development opportunities.
October 11, 2011