Union says authority is taking an unnecessarily aggressive approach
Wandsworth Council staff are to be balloted on industrial action due to what the GMB Union is claiming is the unnecessarily aggressive approach taken by the authority over the planned merger with Richmond Council.
Local negotiations have been taking place to create a single staffing structure across both Wandsworth and Richmond Councils. Wandsworth and Richmond are trying to push through the harmonisation of terms and conditions of employment for non-school based employees of the Council.
The Councils say they have been trying to effect those changes by way of collective agreement with recognised trade unions, but have now reached the stage where it appears unlikely that this will be achievable.
They will therefore need to look at seeking individual agreement with up to 2582 employees affected to change their terms and conditions. This involved sending a statutory notice to staff which the Union says amounts to threat of dismissal and re-engagement on lower terms and conditions unless staff agree to sign new changed contracts of employment by the end of October 2016. Staff have received a letter from Catherine Parsons, Acting Head of Human Resources at Wandsworth outlining the procedure the Council will be going through including a sc 188 notice.
Paul Grafton, GMB regional organiser, said, "GMB will be undertaking a consultative ballot of our members in due course to ascertain what action they may wish to take as a result of the threat.
"GMB is committed to negotiate a better deal for staff than one that is currently on the table but see the issuing of these statutory notices nothing short of an unnecessarily aggressive approach that does no more but alienate its staff."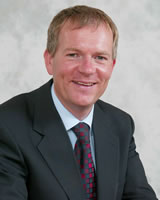 Paul Martin would head up the two boroughs
Paul Martin (Chief Executive of Wandsworth Council) and Gillian Norton (Chief Executive of Richmond Council) said: "As part of our work to create a joint staffing structure across Wandsworth and Richmond Councils, we have been in constructive negotiations with the recognised trade unions since September 2015 in order to agree harmonised terms and conditions for staff from both boroughs.

"Although the Councils remain fully committed to further negotiations in order to achieve a Collective Agreement, because of the timetable for the implementation of the shared staffing arrangement, it was necessary to issue the sc 188 notice as a precaution in order to fulfil the legislative requirement.

"Late last week this position was fully explained to the local trade union representatives at their weekly meeting. We are still working towards a Collective Agreement with the trade unions. It is still our aim and hope that this will be achievable. We will continue with further talks tomorrow and weekly meetings thereafter."
In total 3,578 staff across the two Councils have received the notices.

February 2, 2016