Specialist fire safety officers from the London Fire Brigade have on Saturday (24 June) conducted a series of detailed inspections at Castlemaine Tower in Battersea and concluded the building is safe for residents to remain living there.
The inspections were conducted immediately after Government scientists confirmed that the external cladding attached to the building did not meet current fire safety standards.
This cladding will now be removed from the block as quickly as possible.
In the light of these findings, officers from the fire brigade's specialist fire safety team conducted an exhaustive, floor-by-floor inspection of the block. This included fire doors, dry risers, intake cupboards, service ducts, gas pipes and electrical fittings plus other parts of the building that could conceivably catch fire.
They have confirmed to the council that they are satisfied there is no undue risk to the residents of the block and no reason for them to move out. This is quite different to the situation in Camden which was yesterday forced to evacuate a number of its tower blocks following a similar inspection by the LFB.
Today's checks in Castlemaine follow Friday's announcement that the council is to deploy two fire marshals who are to remain in the block 24 hours a day as an additional safety measure.
The fire marshals will be able to react immediately if there is an emergency. They will also carry out regular six hourly checks of all stairwells, corridors and other communal areas to ensure they remain free of any combustible materials and also free of any obstructions that could hinder evacuation and escape.
They will regularly inspect fire safety equipment such as dry-risers and make sure self-closing fire resistant doors remain in full working order.
Every property is also being visited to make sure that residents have working smoke alarms. If they do not the council will provide these free of charge.
The marshals will also ensure Castlemaine residents know and understand the fire safety procedures for their blocks and in particular their routes to fire exits.
They will also ensure that fire safety posters and signage in communal areas remain clear and free of graffiti and arrange their immediate replacement if any are defaced or damaged.
And in conjunction with the London Fire Brigade, the council will regularly inspect parking areas to make sure there's sufficient access for firefighting vehicles.
Residents will be kept up to date of any further development through the issue of a regular newsletter.

Similar fire marshal arrangements are also in place at another block in the borough - Sudbury House - which also has external cladding. These panels have also been sent to Government labs for testing but these test results have not yet been received.
Sudbury House and Castlemaine Tower are the only two blocks in the borough to have this type of external cladding fitted.
On Friday the council also announced it will retro-fit water sprinklers to all its tower blocks of ten storeys and above, covering 6,400 dwellings in total.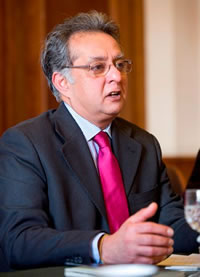 In the wake of the fire safety checks at Castlemaine Tower, council leader Ravi Govindia, (pictured above), said: "Residents will no doubt be hugely reassured by the positive results of this fire brigade inspection.
"We had already begun making preparations to find alternative homes for people living in the block if the LFB had found any significant defects and if they'd concluded that residents should be moved out on safety grounds. We were ready to implement whatever recommendations arose from today's inspection.
"I am of course pleased and hugely relieved that the building has been deemed safe. We have always treated fire safety very seriously in our high rise properties and invested heavily to ensure they are fitted with the full range of protective measures like internal firebreaks and barriers and fire doors to ensure that if a fire does break out in one property it's prevented from spreading to others.
"And having had the results back from the Government laboratories to show that the cladding is not sufficiently fire resistant we are now arranging for its urgent removal."
The council is also repeating its earlier advice to residents of high-rise blocks to reduce the risk from fire:
• Make sure you have a working smoke alarm in your home – these will be provided at no cost.
• Check your smoke alarm is working every month.
• Keep balconies free from clutter.
• Don't leave rubbish or bikes in communal areas or obstruct escape routes.
• Make sure you know where your nearest fire exit is.
• Do not smoke in common areas of the block.
• Always fully extinguish cigarettes smoked in your home and dispose of them carefully and safely.
June 27, 2017