Fury Over Closure of Special Needs Nursery in Earlsfield
---
Council vote through £1 million cuts to Early Years funding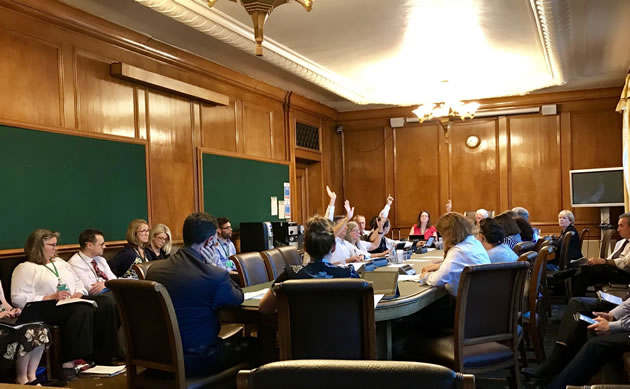 Wandsworth Council takes vote to close nursery
There has been an angry reaction to a vote by Wandsworth Council this Tuesday (19 June) for funding cuts which will result in the closure of Siward Road Nursery in Earlsfield.
The planned closure is part of a reduction in funding of £1 million to Early Years education in the borough, according to the Wandsworth Labour party.
After the vote Leader of Wandsworth Labour, Simon Hogg, commented, "They're (Wandsworth Conservatives) really showing themselves to be the nasty party."
Zenaba Fozari-Hamid, whose son has attended the nursery, came to the Town Hall to speak about how important the facility was for him. She said, "His speech has improved remarkably and he's received the right support, care and love... We shouldn't close this service, the council should listen.
"If my son hadn't been using their services, his life would be completely different."
Zenaba has started a petition to keep the nursery open which managed to collect 50 signatures in just an hour.

Wandsworth council, however, claims that children who need special education provision will benefit from the changes to local services. Sarah McDermott, the council's Lead Member for Children's Services, said, "Once again Wandsworth's Labour Group is trying to frighten local parents by making completely false claims. We know their opportunism knows no bounds, but they really should stop trying to con people and be truthful for a change.

What is actually happening is that changes in Government funding rules means that an additional £1million is now being given to local childcare and early years providers.

Previously this sum was retained by the Town Hall, but the Government has said that from now on this extra money must be spent on the frontline instead. This means more money for local nurseries, childminders and other early years settings in Wandsworth.

This is not the issue with Siward Road. The reason we want to make a change here now is because we have much better provision, support and expertise to help our young children with special needs at many other places in the borough. We feel we can provide these children and their families with a much better service than they were receiving at Siward Road. That is why we have made this decision.

Wandsworth has some of the best special education provision in the country. We have seven stand-alone special schools that cater for a full range of needs and disabilities along with additional specialist support in many of our mainstream schools. No other London borough has as much of this specialist support as we do, which is why it is so disappointing that the Labour group wants to try and exploit vulnerable children and their families to try and support their groundless claims.

If you are a parent of a child with special needs we are there to help and support you and we will not let you down."
June 22, 2018