Children from four schools will now be collected in taxis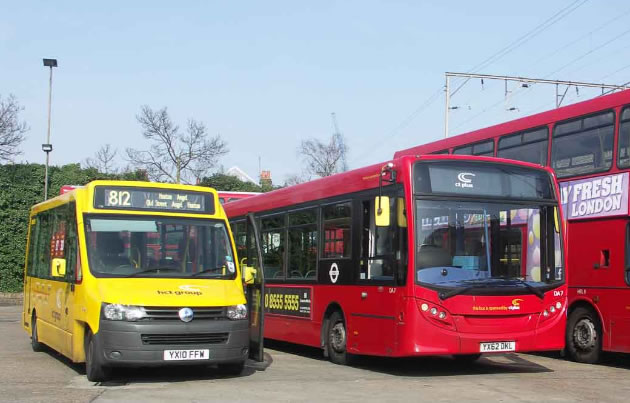 A decision by Wandsworth Council to stop providing a specialised bus service to four schools for children with special educational needs has been criticised by a union.
GMB, the union for local government staff, issued a statement saying, "This decision is bad for the pupils, bad for the parents, bad for the staff and bad for the environment".
The buses were operated by a contractor, CT Plus. Affected pupils at four schools, Southmead, Smallwood, The Alton and Sacred Heart, will no longer be collected by trained staff in special buses but will instead be picked up by taxis.
The decision to end the services was made during the summer and parents were told before the start of term. All other bus routes operated by CT Plus on behalf of the council remain in place.
Andy Prendergast, GMB Southern Region Senior Organiser, said, "The decision to stop these services is nothing short of outrageous. Parents and children alike have come to depend on a specialised service, one operated by virtually every council in the country which recognises the special needs of the children who are extremely vulnerable and ensures they are transported by people who they come to know and rely on.
"From now on parents are being told that instead of being picked up by properly trained staff, their children will be collected by taxis driven by strangers who are not trained and who don't understand their needs. The council boast about their low rates of council tax but the fact is that this kept artificially low is only due to poverty pay and decisions like these which affect the most vulnerable in the borough.
"The council should care more about the vulnerable children and their parents who depend on their services; instead they have betrayed them to make a tiny saving. Those Conservative councillors have shown once again that they view those who rely on their services in utter contempt, and they should be thoroughly ashamed of themselves. "
GMB members working for CT Plus in Wandsworth took industrial action back in July over long standing issues over pay. Many of the workers, who ferried children with Special Educational Needs to and from school, were employed by Wandsworth Council before they were transferred out to the private contractor CT Plus. Because of this transfer, the union say staff are on different sets of terms and conditions and pay, with the rates differing significantly between other staff doing the same job.
A spokesperson for Wandsworth Council told this website:"We are proud of the range of excellent special schools and resource bases we have in Wandsworth which provide a very high standard of educational provision for children with SEND. We always try and place children in a school as close to home as possible to reduce travel times and ensure children can access local services. We always work with individual families to assess needs and provide appropriate travel assistance for children with SEND who need this extra support.
"Sometimes the most appropriate provision is on a bus, other times it is in a taxi and sometimes it is providing other forms of travel assistance. Each child's needs are considered on an individual basis. In this case, the reduction in the use of some buses should mean that a number of our children should spend less time travelling and more time at home or with their friends in school.
"Any children who need specialist assistance or support will continue to receive it."

September 12, 2019