Pearl Howard MBE provided a home for over 100 young people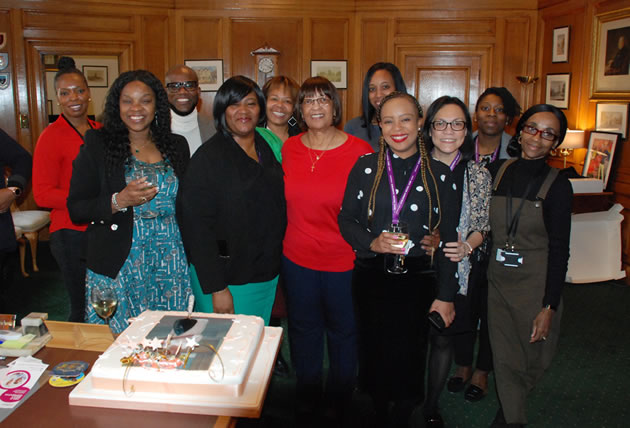 Pearl Howard MBE in centre with red jumper
Pearl Howard MBE, Wandsworth's most experienced and longest-serving foster carer has been given an official send-off to mark her retirement.
After more than 40 years in the role she was honoured at an event hosted by the Mayor of Wandsworth Cllr Jane Cooper in the Mayor's Parlour.
Pearl has provided a stable and loving home for well over a hundred young people, mostly alongside her husband Claude before he passed away, and was particularly skilled at caring for teenage boys. She was awarded an MBE in the 2018 New Year's Honours.
The ceremony was held to thank her and her family, including Claude, for their service. It was attended by senior members of staff, including Director of Children' Services Ana Popovici, as well as members of Pearl's family and other foster carers.
Pearl said she had considered retiring before, but she and Claude realised they had more to give. "Some carers will say they don't get that much support but I haven't got any complaints at all. If I pick the phone up and call because I'm having problems, I always get somebody at the other end of the line."
Cllr Cooper said she was proud to host the event. "She's an amazing lady and she's so amazing that the Queen awarded her an MBE on our recommendation two years ago. Today we're honouring her and saying goodbye and thank you for all the hard work she has done here."
Newly-approved foster carer Ruth Stebbing said she was hugely inspired by Pearl. "She has just given me some of her wisdom to be loving and patient and resilient. Since we applied to Wandsworth they have been so supportive and kind and we are really excited to start."
Wandsworth is always in need of more foster carers, especially those who can care for teenagers, and the council's fostering team is keen to hear from people who want to find out more. You can call now for a one-to-one session or book yourself onto an informal information session at the town hall on March 19 or April 16.
Foster carers do not need to own their own home, but they do need a spare room. You can be married, in a civil partnership, or single and Wandsworth's carers come from all cultural and ethnic backgrounds. Single foster carers, or at least one member of a couple, must be aged between 25 and 60 and be in good health. You will be paid allowances and fees.
Find out more at www.wandsworth.gov.uk/fostering or call (020) 8871 6666.
February 21, 2020