Motorists warned camera enforcement will run for a further six months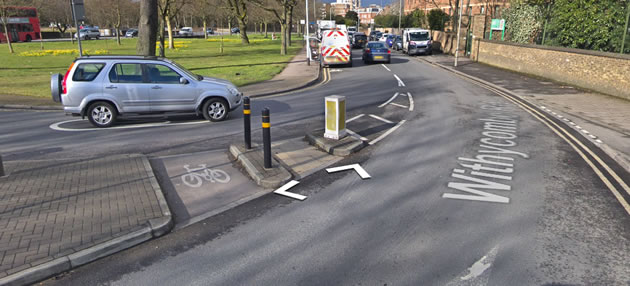 Withycombe Road . Picture: Google Streetview
A pilot scheme designed to deter rat-run drivers from clogging streets in West Hill is to be extended and subject to further monitoring and evaluation after initial surveys showed a 22 per cent reduction in traffic in the area's residential roads.
For the past six months a council traffic calming initiative has seen vehicles banned from entering two key access roads during morning peak hours – following pleas for action from local residents.
Before the change was made residential streets in this area suffered high levels of rat run traffic as motorists exited the busy A3 at Tibbet's Corner and turned into Withycombe Road and Inner Park Road to avoid congestion in West Hill.
This resulted in high levels of through traffic in Withycombe Road, Princes Way, Keevil Drive, Skeena Hill, Girdwood Road, Granville Road and Merton Road.
But a Monday to Saturday 7am to 10am ban on vehicles turning left from Wimbledon Park Road into Withycombe Road and the northern stretch of Inner Park Road has reduced rat run traffic in the area by 22 per cent.
Following these initial results, it's been announced that the pilot scheme will continue for another six months to allow further evaluation to be carried out - with some minor modifications to the scheme prompted by traffic studies and feedback from residents and the travelling public.
The first change will come into effect from October 7 onwards and see the restriction no longer apply on Saturday mornings, when traffic is lighter and rat runners less of a problem. Buses and cyclists will remain unaffected by the restrictions.
The second change will see additional traffic calming measures installed at the southern end of Inner Park Road which will give local residents priority over commuter traffic. Vehicles heading eastbound – which is largely commuter traffic - will be required to give way to those travelling westbound. This measure is expected to be introduced before the end of the year when ongoing gas company works in the area are scheduled to end.
The aim of the scheme is to keep traffic on the main trunk road (West Hill) or encourage motorists to find alternative routes into Wandsworth town centre. Studies have shown that very little of this traffic is "local" but passing through the borough to and from other destinations.
Extending the scheme for another six months will also give highways engineers further time to assess traffic flows without the ongoing gas company works in the area potentially affecting results.
Wandsworth's transport spokesman Cllr Paul Ellis said: "The scheme appears to be working well so far with a significant reduction in rat runners using quieter residential roads in West Hill.
"However we think it would be prudent to continue monitoring the scheme for a further six months to be sure it is having the desired effect. "People in the area are concerned about traffic levels and vehicle speeds in their neighbourhoods, so it's important that we get these remedial measures right.
"Over the course of the coming months we will need local people to tell us what they think and let us know if they judge whether or not the changes are having a positive or negative effect. Their views will play a pivotal role in determining if this scheme is made permanent, subject to further change or abandoned altogether."
People can submit their observations on the scheme's effectiveness by visiting https://haveyoursay.citizenspace.com/wandsworthecs/west-hill-19 before March 24 of next year. To request a paper copy of the questionnaire please email consult@wandsworth.gov.uk.
September 25, 2019