Lemon Meringue Cup Cakes Win Wandsworth Bake Off
---
Earlsfield resident is crowned 'Star Baker'
Jade Ripley, 30 from Earlsfield won the 'Star Baker' prize at the Wandsworth Bake Off last weekend with her lemon meringue cup cakes.

Great Australian Bake Off Judge Dan Lepard was one of the three local celebrity bakers who chose the delicious cupcakes as the winner. He said: "When you get the combination of superb knock-your-socks-off flavour and great big ballsy style you're going to at least get noticed in a baking competition. The winning cupcakes carried the flavour through with style: from the tom thumb lemon macaron perched jauntily on the top through to the secret well of lemon curd hidden within the cupcake crumb. My verdict: these were the very best home-made cupcakes I'd seen and tasted.

"I loved the day. It was of course fantastic seeing the crowds who'd entered our little local competition, but equally I was charmed by the effort and excitement everyone brought to it. It's so hard to fundraise for charities right now so it was remarkable how our community got together to help us raise money for Wandsworth Radio and Wandsworth Oasis."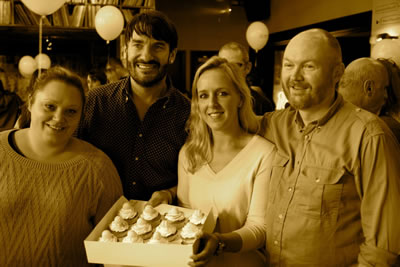 Jade and the judges

Jade, who has lived in the borough for the last three years with her husband and works as a personal assistant for a property development company in Victoria, was thrilled to win: "I am over the moon to have won the cupcake category and overall star baker.

"My passion for baking came from my mother who would always make wonderful creations for the whole family to enjoy. I love to bake for friends and family and have made lots of friends wedding cakes and numerous novelty cakes and cupcakes for birthday parties. I regularly take baked treats into the office, and the lemon meringue cupcakes are a firm favourite!"

Jade won a £100 voucher for a meal at new local restaurant Cornish Tiger in Battersea Rise and a £50 voucher to the BuynBake.com website.

Over 70 entries in six categories were laid out on tables at the Northcote Records venue on the Northcote Road in Battersea on Saturday and goodies on offer ranged from cakes to tray-bakes, biscuits to afternoon teas. It was tough work for the judges.

The junior category was won by eight year old Lottie Perks from Wandsworth, whose raspberry cheesecake cupcakes where described by judge Laura Amos from Northcote Road's Dessert Deli as.... "a good taste of raspberry with a nice and zingy cream cheese. Great texture, very light. All together they were a brilliant combination."

Lottie, who attends Broomwood Hall Upper School in Nightingale Lane, said: "I loved winning the Wandsworth Junior Bake Off, I feel really happy. I was very happy with my choice of cake and with how they turned out.

"I would like to keep baking as a hobby, and for fun. I have got lots of ideas for what I might like to do as a job - a chef is definitely one of them, but there are so many things I enjoy, I can't decide yet".

The most poplar category to enter was cake where a creamy layered pistachio raspberry creation took the top prize. An onion flavoured loaf won the bread category, with chocolate chip cookies taking the tastiest biscuit prize and mouthwatering brownies winning the tray-bake section.

All the bakes were sold to passing shoppers outside Northcote Records raising over £500 for local HIV charity Wandsworth Oasis and new local community radio station Wandsworth Radio.

September 26, 2014