Local Charity Wins Business Of The Year Crown
---
As Wandsworth's best businesses are honoured
A charity that has spent the past 25 years helping young people get into business has won the coveted Business of the Year crown at the Wandsworth Business Awards, in association with The Tax Guys.

Business Launchpad, who also won the Commitment to the Community award, offer free practical business guidance to young entrepreneurs aged 16 to 30 who want to set up their own business and has a remarkable success rate, with 85 per cent of businesses still trading after two years.

They were one of eleven companies to take home trophies in the individual categories on the night, held at the Roehampton Club on Thursday, November 7, and led by Wandsworth Chamber of Commerce.

Radio and television presenter Paul Ross hosted the awards, which included a charity raffle that raised £1,370 for Breast Cancer Care, a fabulous three-course meal provided by the Roehampton Club and a drinks reception hosted by Lock & Leave Self Storage.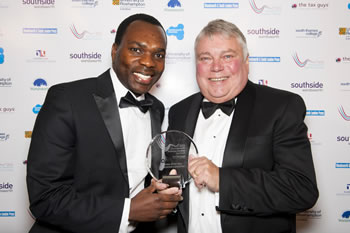 Steve Pinto, chairman of Wandsworth Chamber of Commerce, said: "We haven't had a business awards in Wandsworth for a couple of years as austerity measures meant it was getting tougher and tougher.

"But it appears we are coming out of a recession and the Chamber has stepped up to the mark and the encouragement we have had from the businesses has been fantastic. The Tax Guys and Lock & Leave wanted to get involved from day one.

"The entries we have had from businesses has been phenomenal. Whether you win or not doesn't matter. The fact you have taken part is a testament to the attitude that differentiates you from some of the business that have perhaps gone under, and you are all to be commended."

Jonathan Amponsah, senior partner at The Tax Guys, said: "To run a business is very demanding and sometimes you do not realise the important role you have in the community and in changing lives.

"There are businesses at the awards who are creating jobs in Wandsworth, making a difference and helping to put food on people's tables and I am so very proud to be sponsoring these awards."

Councillor James Cousins, Wandsworth Council cabinet member for business said: "Business is what gives Wandsworth its heart. I would like to congratulate all the winners for being such excellent businesses to win an award, but I would like to congratulate all the businesses, at the event or not, for making Wandsworth such a great place."

Awards director Ross Feeney added: "It was a fantastic evening, with 12 very worthy winners and many companies nominated. We had 220 people at the event and everyone really enjoyed themselves.

"It has been a fantastic celebration of the Wandsworth Business Community and it shows that business is thriving in Wandsworth."
The category winners were:
WANDSWORTH'S BUSINESS OF THE YEAR (sponsored by The Tax Guys): Business Launchpad
Business Launchpad offers free practical, complete and personalised business guidance and support to young entrepreneurs, aged 16 to 30, who want to set up their own business. Since 1988, they have supported more than 5,000 young people. Chief executive Colin Sambrook said: "This is fantastic, I just cannot believe it. It is such an honour. Wandsworth Council had such faith in us 25 years ago when we set up with the ambition to help young people in Wandsworth who wanted to get into business themselves."

BEST SME BUSINESS: Elizabeth Marsh Floral Design
Elizabeth Marsh Floral Design serves a wide range of customers with weekly flowers, flowers for events and bouquet deliveries across London and the world, while also providing workshops in London and New York. Owner Elizabeth Marsh said: "I am bit stunned. I really didn't think we would win. We work really hard, give our customers the best value for money and try to stay at the front of the market."

Other finalists: GreenZone, Kiwi Movers, Minar Jewellers, NappyValleyNet, RS Consulting.

BEST BUSINESS FOR CUSTOMER SERVICE (sponsored by White Label): GreenZone
GreenZone offers cleaning services with the latest technologies and demonstrates cleaning can be green, sustainable and environmentally focused without compromising standards and value for money. Managing director Steve Trew said: "We are absolutely delighted, we didn't expect this at all and it is a great accolade." Director Dan Sadler added: "It is reward for the effort and the commitment put in through the whole team, it is hearts and minds with us."

Highly Commended: Elizabeth Marsh Floral Design. Commended: Home Instead Senior Care. Other finalists: Bullman Booth, For the Love of Dog, The Pixel Pusher, Southfields Office Supplies, Independent mindbodysoul.
ENTREPRENEUR OF THE YEAR (sponsored by Southside Wandsworth): Kate Giles of Crewroom
Former international rower Kate Giles set up Crewroom 12 years ago to provide all-weather clothing to athletes, after herself catching pneumonia when caught in the rain on the River Thames. In the past year, the company has almost doubled its turnover. Kate, who flew back from Australia the same day as the awards so she could attend, said: "I'm ecstatic. I must thank my team who work so hard and really make the business work. The past 12 months we have grown massively and we are looking like we are going to do the same again this year."

Highly Commended: Mark Jankovich of Delphis Eco, Joe Sluys of Sentronex. Other finalists: Kirsty Grieve of Flowers by Kirsty, Steve Trew of GreenZone, Laura Amos of The Dessert Deli, Niki de Schryver of The Toadstool.
COMMITMENT TO THE COMMUNITY: Business Launchpad
Business Launchpad offers free practical, complete and personalised business guidance and support to young entrepreneurs, aged 16 to 30, who want to set up their own business. Since 1988, they have supported more than 5,000 young people. Chief executive Colin Sambrook said: "This is fantastic and it is for the hundreds of young people we have served over the past 25 years. I am delighted."

Commended: Wandsworth Oasis, Delphis Eco. Other finalists: Gertrude & Ivy, GraffORM, Putney Arts Theatre.
BEST NEW BUSINESS: Edward James Salon
Edward James Salon in Clapham is one of London's most luxurious boutique salons, dedicated to providing the finest hairdressing and creating bespoke looks to suit individual styles. They are currently preparing to open their second salon, in Putney. Owner Edward James said: "We are delighted, this is our first award and we can't wait to open in Putney. This is reward for our team's hard work and they are just so dedicated. They are non-stop and we are like a family."

Highly Commended: Gertrude & Ivy, My Delivery Can. Other finalists: Caribburton Ltd, Eat Play Love, Shakers Eventi.
BEST GREEN BUSINESS (sponsored by Roehampton University): Delphis Eco
Delphis Eco manufactures environmentally-friendly cleaning products and was the first British manufacturer to be awarded the EU Ecolabel in this sector. Owner Mark Jankovich said: "I am delighted because we won this award the last time the awards were held so we have defended our title. We all need to do more to help the environment and around the world we can make a difference."

Highly Commended: GreenZone. Commended: The Toadstool. Other finalists: Holiday Inn Express, RS Consulting, Salvation Army.
BEST BUSINESS FOR TRAINING & DEVELOPMENT (sponsored by South Thames College): RS Consulting
A full service market research-based consultancy, RS Consulting is dedicated to helping organisations get to the heart of their most difficult problems. Research director Anthony Wood said: "We are ecstatic. We have belief in what we do in terms of our training. We make such a big effort to develop everyone and make sure they are successful." Research director Martin Wootton added: "We put a lot of effort into our training and it is good to be recognised for that."

Highly Commended: Salix Consulting, Francesca Alexander Hair & Beauty. Other finalists: GreenZone, Independent mindbodysoul, Roehampton Club.
BEST INDEPENDENT RETAILER (sponsored by Wandsworth & South London Press): Postmark Online
Family-run Balham greetings card shop Postmark Online offer original and exciting cards, and have twice won Best Independent Card Retailer in London. Owner Mike Janson-Smith said: "We are over the moon and this is down to our staff's hard work. We try to be the best at what we do. This is our third award and we are always happy to get recognised."
Peter Edwards, managing director at the South London Press, said: "This is very much deserved. At the South London Press we believe the High Street is really crucial to customers. It is really close to our hearts. Postmark Online's passion and commitment won them this award."

Highly Commended: Minar Jewellers. Commended: Re:treat. Other finalists: Amirah's Kitchen, Huttons, Tooting Market.
BEST BUSINESS FOR MARKETING & SOCIAL MEDIA: Gertrude & Ivy
Gertrude & Ivy is a digital marketing and event management agency, specialising in social media campaigns. Senior account manager Heather McKay said: "Our hearts are beating quite a lot and I have this warm fuzzy feeling inside." Managing director Emma Jane Clark added: "We are so honoured to win this award. It means so much. Social marketing and media is what we do as a business so it is good to be praised for doing it for ourselves."

Highly Commended: GraffORM. Other finalists: Flowers by Kirsty, The Toadstool, Independent mindbodysoul, WillB.
PUB OF THE YEAR: Pig & Whistle
The Pig & Whistle is a traditional pub in Earlsfield that had its garden named as the best outside area for London in the Great British Pub Awards recently. Partner Keris DeVilliers said: "This is awesome. We have been in Wandsworth for a few years now and this is what we have been working to achieve. We really care about our customers and really want to give them great service in a real community pub."

Highly Commended: The Duke's Head - Putney, The Arab Boy. Other finalists: The Antelope, The Old Sergeant, The Wheatsheaf - Tooting Bec.
RESTAURANT OF THE YEAR: Amirah's Kitchen
Brother and sister Arif and Shajeda Hussain run Amirah's Kitchen, an Indian restaurant in Wandsworth Town with a street food emphasis and modern cuisine. Arif said: "We are amazed and overjoyed. We put our heart and soul into this. We do street food and try to keep it authentic, but make it a bit trendier at the same time."

Highly Commended: Gazette Brasserie. Commended: Eat Play Love. Other finalists: Nancy Lam's Enak Enak.

November 13, 2013