The mystique of the Exotic East came to Wandsworth Civic Centre on Friday 11 May, when the outgoing Mayor was the host of a glamorous Arabian Nights' themed party, which successfully raised over £8,000 for her two charities, St George's Hospital, and Age Concern, Wandsworth.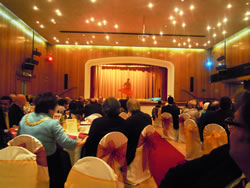 The Civic Suites were transformed into a delight for entertainment and a grand banquet. Madame Mayor (with just 7 days to go before she handed the baton to a new mayor) said:
"It was a wonderful occasion and in the 34 years that I have been going to the Civic Suite I have never seen the hall look that good!"
Representing Embassies from Lebanon, Jordan and Saudi Arabia, Dignitaries joined local members of the community, to embrace the glamorous theme. Guests were all dressed in their finest, and entertained with stunning performances on stage from the talented Arabic Dance Theatre and served with an array of Eastern delights, encompassing delicious dishes from across the Middle East.
Following a successful raffle, with some very well received prizes, there was also an opportunity for guests to see into their future with an on-site fortune teller, who also was able to give any willing guest a beautiful henna design, which proved very popular with all the ladies present!
Local business's contributed towards the event and special thanks from the committee go to the Almadiya Muslim Community, the Rafayel Hotel and Waitrose, for their generosity.




May 25th , 2012