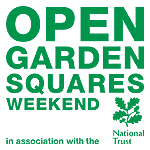 London Parks & Gardens Trust have announced that 212 gardens in 27 of London's Boroughs will be taking part in the annual and extremely popular Open Garden Squares Weekend, which is held throughout London every June. The 2012 weekend will take place immediately after the extended Diamond
Jubilee Bank Holiday on Saturday and Sunday, June 9th and 10th, 2012 and for the first time, the event will be in association with the National Trust.

This year 23 new gardens will be opening their gates for the first time – these range from several National Trust gardens to community gardens to schools, urban ecology centres, roof gardens and allotments.

They will be offering a wide range of activities such as visits to an Observation Beehive in Greenwich to exhibitions of Art& Sculpture in Stoke Newington (Hackney), Lewisham and
Holland Park (Kensington & Chelsea). Other gardens will be offering face painting and crafts in Lambeth, bug hotel making in Bromley and knitting in Lewisham!

The eight gardens taking part in Wandsworth are Grove House Estate (Roehampton University), two at HM Prison Wandsworth, Thrive Battersea - Herb Garden, SHARE Community Horticulture Project, Dover House Road and The Pleasance Allotments, Roehampton House and for the first time Bramford Community Garden...

*Bramford Community Garden (SW18).
Open both days 2-5pm, Bramford Community Garden is designed and managed as a model of sustainability. Run by Transition Town Wandsworth volunteers, it aims to provide wildlife
benefit, incorporate productive elements and be beautiful, contributing to its setting within a public park and educating the community on environmental issues in gardening. The garden
includes a wild flower meadow, fruit orchard, edible plants in raised beds and mixed amongst
herbaceous borders, to demonstrate that a planting scheme can be productive as well as attractive.




May 1, 2012