And asks for local support in its quest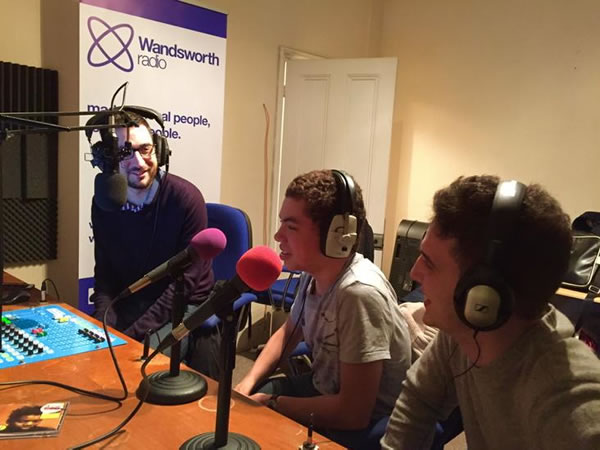 After more than two years broadcasting above a charity shop on Battersea Park Road, online local radio station Wandsworth Radio is moving to new purpose built studios on the Doddington and Rollo housing estate.
Volunteers at the community radio station have set up a crowdfunding page to help fund the move. They're looking for £2,500 to buy new equipment and software and to help train more local people in media and journalism. You can donate funds at crowdfunder.co.uk/newstudio
"We're so excited to be moving into our new studios which are being purpose built in a unit at the business centre on the Doddington and Rollo Estate. Our fundraising has already reached one thousand pounds but we need more money to finish the job," says Wandsworth Radio director Jason Rosam.
He adds, "We're going to miss everyone at Wandsworth Oasis, especially the charity's chief executive Gill Perkins who gave us a home when the station was just starting out."
The old studio is currently being dismantled at 547 Battersea Park Road which is home to the Wandsworth Oasis head office and also the location of its first shop which opened nearly 30 years ago to raise funds for local people living with HIV. Both Oasis and Wandsworth Radio are moving on as the current building has been sold to developers.
Jason Rosam, who is also a presenter on BBC Radio London, says, "Its been a real struggle to find a suitable and cost effective venue for our studios locally but we've finally found the right place and now need to raise some money to be able to pay for new equipment for our volunteers and to be able to train people living on the estate."
Rosam doesn't want to suffer the same fate as Croydon Radio - another local online radio station - which was closed down earlier this year due to problems with finding affordable studio space.
Wandsworth Radio will need to shut down for two weeks as volunteers swap their microphones for paint brushes and get the new studios ready for broadcast. Local news, sport, arts and music programmes made by local people will start broadcasting again online at WandsworthRadio.com and on the TuneIn Radio app on your mobile phone at the beginning of September.
The new home will transform the local news operation at Wandsworth Radio with its own dedicated news studio broadcasting the daily local news shows Wandsworth at One and Wandsworth Tonight. It will also improve facilities for the station's hundreds of volunteers. If you can pledge any money to the new studio you may collect a reward such as a T-Shirt, pen or free advertising. Go to crowdfunder.co.uk/newstudio
While waiting for Wandsworth Radio to come back on air in September you can listen again to previous shows from the past two years of broadcasting at 547 Battersea Park Road online at mixcloud.com/wandsworthradio

Wandsworth Radio is a Community Interest Company giving talented, creative local people a voice. It offers the airwaves to residents who feel they need an outlet to express themselves. Wandsworth Radio supports volunteers to run the radio station featuring a broad range of programming from documentaries, local news, community profiles, radio plays, interviews, recordings of local bands and magazine-format shows all fostering a civic pride for the London Borough of Wandsworth.


August 14, 2017