New radio play and documentary will mark February centenary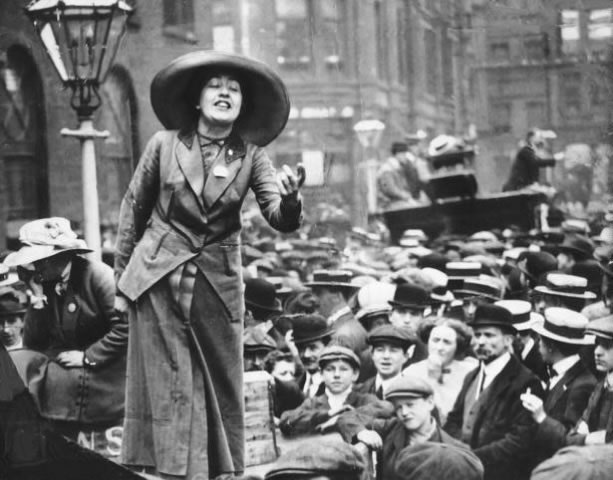 Suffragette Sylvia Pankhurst
Wandsworth Radio, the online community radio station, is commemorating the 100th anniversary of the Women's Vote this February.

Wandsworth Radio aims to play its part in the marking of 1918 key step towards all women finally being able to make their political views count, and the station now wants to hear from local people with any personal stories for a documentary which will be broadcast this summer.
And on Tuesday 6th February - the date the Representation of the People Act 1918 was signed into law - Wandsworth Radio will broadcast a new radio play about the suffragette Sylvia Pankhurst (pictured above).
'Sylvia' is directed by freelance radio drama director Colin Guthrie and has been written by Wandsworth Radio volunteer, Lesley Strachan, who sys, "Emmeline and her eldest daughter Christabel have long been credited for their military style leadership of mostly middle class women in the violent headline grabbing fight for the Vote."
"I wanted to tell the story of an unsung member of that same family. An artist by nature, she went to live amongst the working class of the East End. She set up and ran a factory that only employed women but paid them a men's wage; a free doctor's surgery and cost price restaurants. She believed in adult suffrage, which is the right to vote for both men and women on an equal basis. She was ahead of her time in many ways.
"The play charts the split within the family when these two approaches became incompatible."
The play will be broadcast at 8pm on Tuesday 6th February. You can listen to Wandsworth Radio online at WandsworthRadio.com the TuneIn App for mobiles and tablets - just search for Wandsworth Radio or the Facebook Page and click on Listen Live.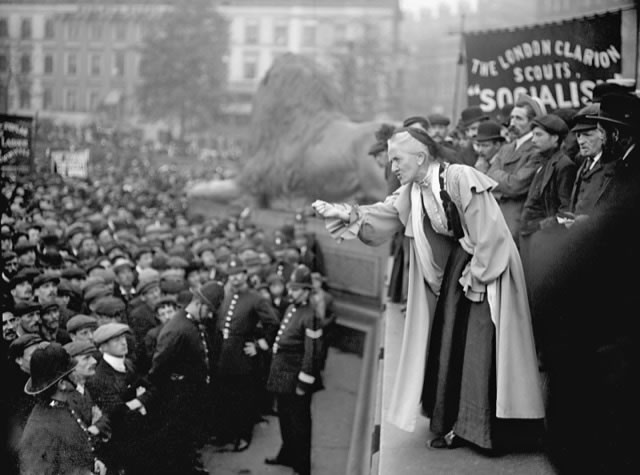 Charlotte Despard, president of the Women's Freedom League, in Trafalgar Square
Co-incidentally Wandsworth Radio's new studios are based on Charlotte Despard Avenue in Battersea which is named after the president of the Women's Freedom League, an organisation which broke away from the better known WSPU led by Sylvia's mother Emmeline Pankhurst. Charlotte objected to the Pankhurst's leadership style and militant methods in achieving women's right to vote.
Charlotte Despard will feature in a Wandsworth Radio documentary on the local women's suffrage movement this June.
In the late 1800s Charlotte Despard began to visit and work with the poor in Battersea and eventually bought a house at 95 Wandsworth Road and later 2 Currie Street in Nine Elms, which no longer exists as it's the site of the new American Embassy.
In 1918, Despard became one of the first women to stand as a parliamentary candidate when she represented the Labour Party in the constituency of Battersea North. In common with most of the anti-war candidates she lost, but she still polled 33% of the vote.
Wandsworth Radio director Jason Rosam says, "As part of the documentary, Wandsworth Radio is looking for personal stories from across the borough. Maybe your grandmother or great grandmother was a suffragette or a suffragist or could have been one of those first women who cast their vote in the 1918 election. We want to hear about her and build a picture of who these wonderful Wandsworth women were and to highlight their histories."
If you have a story you want to share, email vote100@wandsworthradio.com
On Saturday June 30th Wandsworth Radio will be working with partners on the Doddington and Rollo Estate in Battersea to hold an 'EqualiTeas' event on Charlotte Despard Avenue. It will be an opportunity to share, debate and celebrate women's right to vote, over a cup of tea and slice of cake! It's a UK-wide celebration of our democratic equality, with tea parties taking place all over the country.
For more details on all these events visit the radio station website at WandsworthRadio.com or email vote100@wandsworthradio.com


January 23, 2018