At the National Community Radio Awards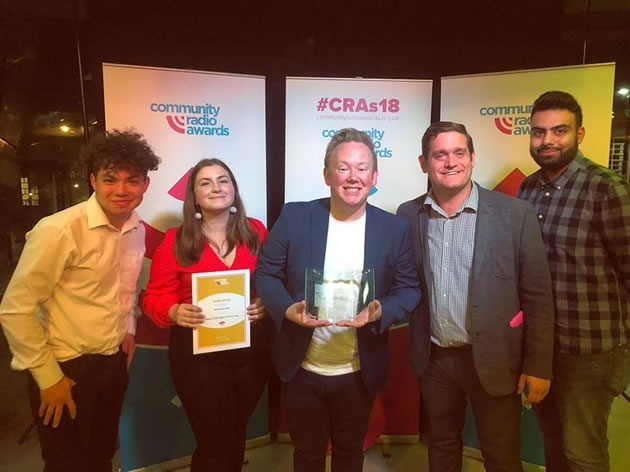 Left to right Kai Chappel (Head of Content), Chloe Desave (News Editor), Jason Rosam (Station Director), Martin Steers (Chair, Community Radio Awards), Gurchetan Sahota (Head of Music)
Online community radio station Wandsworth Radio has been crowned the Digital Station of the Year during a national radio awards ceremony. The Battersea-based station took the prize at the Community Radio Awards in Sheffield last week.
Judges, who had listened to a selection of Wandsworth Radio's programmes, said, "Wandsworth Radio is a seriously impressive broadcaster that understands the area it serves and offers an inclusive place, with a good training ethos, to give this diverse part of London a voice!"
Station director Jason Rosam said, "We are thrilled to win such a prestigious award; it's all down to our hundreds of talented volunteers who make such diverse, interesting and exciting radio shows for the greatest part of London. Thanks also to all our listeners and advertisers from across the borough. We could not have done it without your support."
Rosam took to the stage in Sheffield with Wandsworth Radio's News Editor Chloe Desave, Head of Music Gurchethan Sahota and Head of Content Kai Chappel along with Saturday breakfast show presenter Mark Jarvis, who also won Male Presenter of the Year at the same awards.
Wandsworth Radio was set up by Rosam - who also presents the evening show on BBC Radio London - back in 2013 when he invited people who wanted to create a local radio station for to a public meeting at Battersea Arts Centre. Sixty people turned up and a crowdfunding page was set up a few months later to purchase equipment. The station went on air in January 2015.
Five years later and hundreds of volunteers have been trained at the radio station in broadcast media skills. Many former volunteers have gone on to work in commercial radio and at the BBC, including a producer at the new Greg James Breakfast show on BBC Radio One.

But it hasn't all been plain sailing for Wandsworth Radio. Broadcasting regulator Ofcom failed to hand the award-winning station a community radio licence to broadcast on FM last year due to a "lack of frequency availability" and "limited evidence of specific demand from local people for the proposed service".

Now local people have raised around £20,000 through crowdfunding and other fundraising activities to keep the station running, and the Wandsworth Radio outside broadcast team are now a feature at countless local events such as the Oxford and Cambridge Boat Race on Putney riverside and the Falcon Road Festival in Battersea. The team are looking forward to switching on the Christmas lights for the fourth year in a row in Earlsfield, Putney, Wandsworth Town and Balham.
Station director Jason Rosam said, "We will be applying to Ofcom again in the new year to obtain a licence to broadcast on the new small scale DAB platform so we can engage more local people to take pride in our part of London by switching on their DAB digital radios in future. There will be big changes to the station in the new year as we prepare to broadcast on DAB."
Wandsworth Radio has an audience of 15,000 people every month listening online, on mobile and on catch-up services and provides the only dedicated broadcast news service for the borough.

September 24, 2018