Many of the items associated with Christmas can be recycled in Orange recycling sacks.
Wrapping paper, Christmas cards and envelopes, drinks cans, glass bottles, jars, juice cartons and plastic bottles can all be placed in Orange sacks - but metallic 'foil' style wrapping paper should not be included.
Residents in blocks of flats, who do not have an individual doorstep refuse collection can also place all these recycleable items in the communal orange recycling banks that have been placed on most housing estates.
The council will also recycle Christmas trees free of charge as part of its regular refuse and recycling service. These will all be shredded and turned into compost.
Trees will be collected from people's front gardens on their refuse and recycling collection days between Wednesday, January 2 and Tuesday, January 15.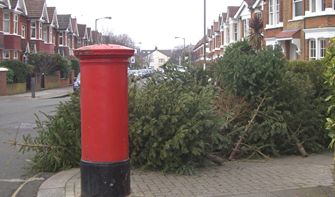 Residents are strongly advised not to leave trees on pavements unless there is nowhere else at the front of their property to leave it. Trees should only be left out on normal collection days and not before.
Residents who live in blocks of flats should leave their trees near to their refuse bin store, making sure they do not block access to the bin store.


There will be no refuse and recycling collections on Christmas Day and New Year's Day.
Between Boxing Day and December 29 schedules will run one day later than usual - ie Friday collections will be made on a Saturday. Services will operate as normal on Monday, December 31 but from January 2 to January 5, schedules will once more run a day later. The normal timetable will be fully restored on Monday, January 7. Collections are only being made on Saturday's over the festive period. In the new year the service will revert to its normal five day a week operation.
For more information about refuse and recycling services over the Christmas break, plus details of other frontline council services over the holiday period, please visit www.wandsworth.gov.uk/openinghours

December 19, 2012