Council clarifies what you can do as contamination levels reach 23%
Residents are to get clearer information on what they can put in orange recycling banks. The council provides 3,000 large, orange-lidded communal recycling banks. Since they were introduced eight years ago, many of the stickers on the side that say what can be recycled have become damaged, and are now out of date.
Many more materials, such as food cartons and plastic pots, can now be recycled, and the stickers that can still be read do not reflect this.
Recycle for London have funded new stickers so that residents know exactly what they can put in the banks. They also use the nationally-recognised standard icons for the different materials.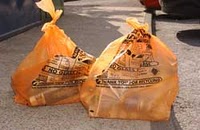 The council's keen to clarify what can and can't go in the orange banks and sacks. Last year the typical household that uses communal banks, in flats and on estates, rSeptember 27, 2012t recycled using the orange sack service.
There is also a greater level of contamination - 23 per cent, compared to 18 per cent in the sacks.
The only things that should be recycled in orange bags or banks are:
Paper and card/cardboard (excluding shredded paper)
Glass bottles and jars
Plastic bottles, pots tubs and trays
Cans, tins and empty aerosols
Food/drinks cartons (e.g. TetraPaks)
Food residue should be rinsed off before recycling and lids should be removed from bottles. Get full details of what can and can't be recycled at www.wandsworth.gov.uk/recyclefromhome.
Anything else included is 'contamination' which has to be sorted out and then disposed off at the energy from waste plant at Belvedere in Bexley.
Recent analysis of samples taken from orange recycling sacks and banks has found that the main contaminants are:
General rubbish
Food waste (often stuck to cans and plastic trays)
Other plastics (such as carrier bags, cling film and plastic toys)
Textiles (such as old clothes)
Shredded paper
Electrical items
Last year the council had to spend £11m disposing of the borough's waste. Every one per cent reduction in contamination will save council tax payers more than £21,000 a year. From October, the council will have to pay twice for any 'contaminated' recycling - firstly to sort it out and then to dispose of it along with other general rubbish.
Environment and Culture spokesman Cllr Jonathan Cook said:
"Hopefully clearer information on orange banks will make it easier for residents using them to recycle correctly. We need to reduce the level of contamination or the council will be hit with huge charges from October.
We are fine-tuning our waste and recycling systems to make sure they work as effectively as possible: we no longer send rubbish to landfill, we've got brand new waste and recycling facilities at Smugglers Way , and what is not recycled is sent to the energy-from-waste plant at Belvedere to produce energy for the national grid. But the process starts at home. We need residents to reduce the amount of waste they produce and ensure that their recycling is properly sorted so that only the correct items go in orange bags and banks. This will keep costs down and council tax low."

September 26, 2012