In the 2016 A Brighter Sound concert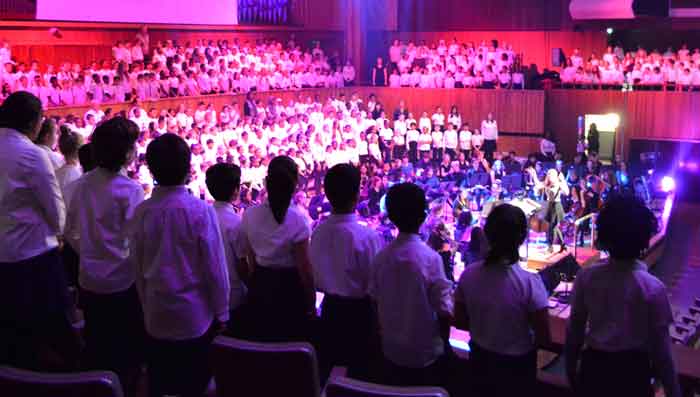 The March 21st concert was organised by the council's Wandsworth Schools' Music Service and featured young people performing in orchestras and choirs from the borough's primary and secondary schools, including the 650-strong Wandsworth Junior Choir and the Wandsworth Pops Orchestra.
Wandsworth Schools' Music Service works with young people across the borough to nurture young talent and offer training and the chance to perform.

The concert was attended by Wandsworth's deputy mayor Leslie McDonnell. Master of the Queen's Music, Judith Weir, was also there to watch a performance of her composition I Carry Your Heart With Me, sung by the Burntwood Chamber Choir.
Other highlights included Janacek's Sokol Fanfare by Wandsworth Academy Brass and members of the Philharmonia Orchestra, and a performance by Paddock School of their own composition.
Wandsworth Schools' Music Service is the lead partner in the Wandsworth Music Education Hub. Other members of the Hub taking part in the concert included musicians from the Royal Academy of Music, the Royal Philharmonic Orchestra and the National Opera Studio.
Head of the Wandsworth Schools' Music Service, David Stowe, said: "We are immensely proud of these young people's musical achievements and extend our sincere thanks for the wonderful support given by their tutors, teachers, school staff and parents."
The Schools' Music Service offers music programmes to borough schools and has created three symphony orchestras – the Wandsworth Pops Orchestra, Wandsworth Concert Orchestra and Wandsworth Junior Orchestra – as part of its 'ensemble' strategy to enable the growing numbers of children learning musical instruments in the borough's schools to progress through performance.
Later this year the ensembles will also be performing at the Wimbledon Tennis Championships and will be undertaking two European summer tours.

April 12, 2016