Fourteen-year-old Mia Weatherhead has won the sixth annual Wandsworth Young Chef of the Year competition.
Mia (pictured above), who goes to Graveney School, impressed judges with her menu of salmon and scallop ceviche followed by chicken wrapped in Serrano ham with saffron sauce and chorizo croquettes. Desert was crème Catalana.
Young Chef is run by the Mayor of Wandsworth and the council's lifelong learning team. It nurtures young talent, teaches young people how to cook good healthy food to a budget, provides a chance to learn from the experts and helps young people get a foothold in the catering industry.
Francesca Sparrowhawk, also from Graveney school, came second and Tenley Fuentes from Ernest Bevin was third. The other finalists were: Aisha Syeda (Burntwood School), Remi Ebanks (Ark Putney Academy), Rose Picicco (Southfields Academy), Alife Turner-Smithson & Zakereya Ahmad from (Ernest Bevin College), Jake Gratrick (Saint Cecilia's) and Maia Blackman from Chestnut Grove Academy.
Each of the eight finalists won high street vouchers. Mia won £120 and a crystal trophy. The finalists will now all take part in a celebratory lunch at the Taste Restaurant at Merton College on May 3. The menu will be inspired by the dishes produced by the finalists and students will get the chance to prepare the lunch alongside Daksha Mistry, former Master Chef finalist.
The event will be attended by the Mayor of Wandsworth, councillors, parents and local employers, including those who have supported the young people during the project.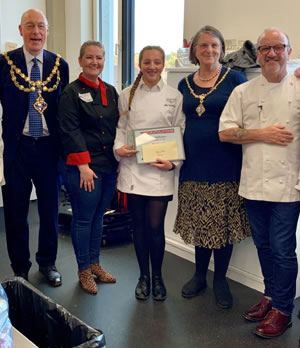 Mia with the Mayor & Mayoress, Sarah Kettel & Nick Vadis
Support for the competition was provided by the South Thames College catering school and catering company Compass Group UK & Ireland, which has been involved with the competition since it launched in 2013. Chefs from Compass judged the final, overseen by Culinary Director of the Compass Group, Nick Vadis. Joining the team this year was local Instagram Chef and entrepreneur, Sarah Kettel.
As part of the competition, the Young Chefs also attended two masterclasses at Billingsgate Seafood School and Compass Innovation Centre in Chertsey.
The Mayor of Wandsworth Cllr Piers McCausland, said, "The Mayoress and I have been greatly impressed by the Wandsworth Young Chef of the Year Competition this year. We saw how it encourages healthy eating, sustainable life skills, whilst being a cultural exploration, great fun and involving teamwork as much as competition. It encourages young people to develop their own alternatives to an endless cycle of take away meals and inevitability of mediocre fast food."
Young Chef is funded in part by the European Social Fund/GLA Careers Cluster project Pan Out. Pan Out is aimed at promoting careers in the hospitality industry and has enabled this and other initiatives such at the Tooting Streetfood Challenge which have supported students in Wandsworth. Find out more here.
Contact the Lifelong Learning Team via their website at wandsworthlifelonglearning.org.uk or call them on (020) 8871 8618.