In a ceremony celebrating some extraordinary contributions and achievements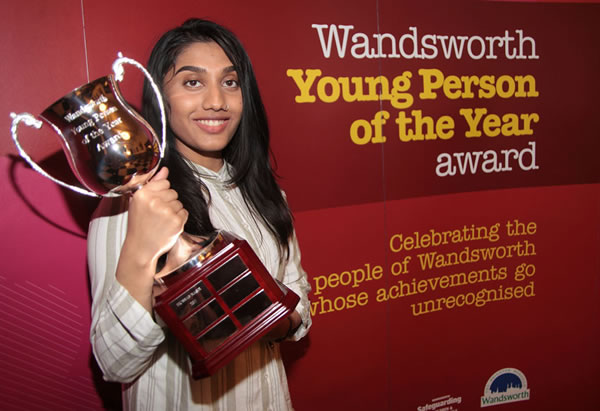 Hubbab Nasir
Bright young legal and business mind Hubbab Nasir has won this year's Wandsworth Young Person of the Year Award.

Hubbab, 16, picked up a trophy, certificate and cheque for £500 after being recognised during a celebration of remarkable young people at Wandsworth's Civic Suite this week.
Hubbab, who attends Graveney School, received the award for her achievements, leadership and drive, and her commitment to helping others. While working for her A-Levels she is part of the two-year Kings College Law Mentoring Programme. She has also led teams to success in national and international business and innovation competitions, and volunteers in her local community, including for the British Heart Foundation.
She works with the police to engage with young people and has developed out-of-school sports activities to keep young people out of trouble. In addition she is a published poet through the 2016 First Story Programme.
Hubbab said at the ceremony on Tuesday April 25th, "I did not expect to win at all but I have to say that I am proud of myself. I never expected to be rewarded for what I have done but to receive the award fills me with pride and I am more than grateful."
Presenting her award, the Mayor of Wandsworth Cllr Richard Field said, "Hubbab's inspirational leadership, her drive and focus are a real example to others. She combines her exceptional achievements with a heart for others and a willingness to help them and is a deserving recipient of the Wandsworth Young Person of the Year Award for 2017."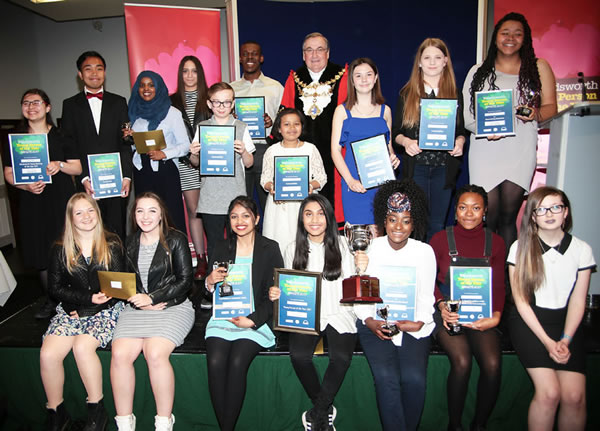 In total there were five commendations and five special awards handed out to young people.
A certificate was also given to the Young Musician of the Year, Faye Evans, who played a piano keyboard piece on the night. Last year's Young Musician of the Year, Bethany Reeves, played background accompaniment for the evening.
The Group Award went to Southfields Academy for their Peer Mentoring group to help students for whom English is not their first language. Peer mentors read with their mentees once a week and help with homework and exam preparation. They received £100 plus a £400 development grant from the Young Person of the Year Trustees.
Other accolades included an award for overcoming adversity which went to young carer Saphire Phillips. As well as caring for a sibling with long-term mental health problems, Saphire is a volunteer who works to promote good mental health and self-esteem among young people and who is also a youth worker. She said, "I would like everyone to know you should always try your best and remember there are billions of other people in the world so there must be other people in your situation. Always know you are unique, but your situation probably is not."
The award for making a special contribution to community safety went to to young police cadet, community volunteer and Wandsworth Youth Council member Mosam Patel, and the outstanding achievement award was given to young musician and volunteer Kalysha Stapleton.
The event is organised by the Young Person of the Year Trustees in conjunction with Wandsworth Youth Service and is funded by the Rotary Club and Wandsworth Community Safety Trust.
Nominations for next year's award will open in the autumn.
Find out more about what's on offer to young people in the borough by visiting www.wandsworth.gov.uk/youth.
April 29, 2017