Dame Zaha Hadid lived and worked in London
World renowned architect Zaha Hadid, whose buildings include the Roca London Gallery in Imperial Wharf, one of south west London's most distinctive buildings, has died suddenly at the age of 65.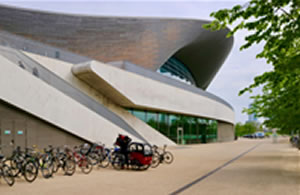 Dame Hadid also designed the Aquatics Centre used for the London Olympics

The Gallery released a statement yesterday, Thursday March 31, saying: "Roca is extremely saddened to hear of the untimely death of Dame Zaha Hadid DBE. Zaha Hadid Architects were commissioned to design the Roca London Gallery which opened in London's Imperial Wharf in 2011. Our thoughts are with her family, friends and colleagues at this time."
Her practice, Zaha Hadid Architects, released a statement headed Zada Hadid 1950 - 2016, saying: "It is with great sadness that Zaha Hadid Architects have confirmed that Dame Zaha Hadid, DBE died suddenly in Miami in the early hours of this morning. She had contracted bronchitis earlier this week and suffered a sudden heart attack while being treated in hospital.
"Zaha Hadid was widely regarded to be the greatest female architect in the world today. Born in Baghdad in 1950, she studied mathematics at the American University of Beirut before starting her architectural journey in 1972 at the Architectural Association in London.
"By 1979 she had established her own practice in London – Zaha Hadid Architects – garnering a reputation across the world for her ground-breaking theoretical works including The Peak in Hong Kong (1983), the Kurfürstendamm in Berlin (1986) and the Cardiff Bay Opera House in Wales (1994).
"Working with office partner Patrik Schumacher, her interest was in the interface between architecture, landscape, and geology; which her practice integrates with the use of innovative technologies often resulting in unexpected and dynamic architectural forms."

Dame Hadid's other renowned projects include the Dubai Opera, the Heydar Aliyev cultural centre in Azerbaijan, the Evelyn Grace Academy in London, the Riverside Museum in Glasgow, the Sheikh Zayed Bridge in Abu Dhabi, the Corones Musuem at the top of Italy's Kronplatz mountain and the stadium that will be used for the Qatar World Cup in 2022.
You can read the statement in full here.


Roca London Gallery, at Station Court, Townmead Road in Fulham is open to the public on
Mondays to Fridays from 9am to 5:30pm and Saturdays from 11am. to 5pm, with an extended opening until 8pm on the last Tuesday of every month. Admission is free. It was created as a showroom for Roca bathrroms as well as a gallery and events location. Water and the way it moves act as a theme for the architecture, connecting all aspects of the Gallery.
You can contact Roca London Gallery on 0207 610 9503 or email info.londongallery@roca.net.

April 5, 2016