Get involved with this new singing venture
Construction workers and staff from the Battersea Power Station Development Company (BPSDC) have joined forces with local residents to meet and sing together on Thursday evenings at the Rose Community Centre, in Ascalon Street.
The choir has already rehearsed a number of songs, including Miley Cyrus' The Climb and Petula Clark's Downtown.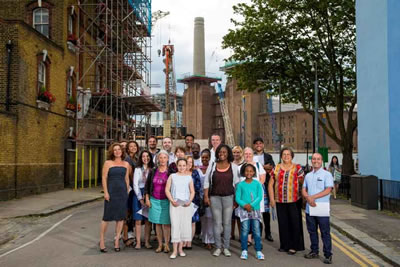 Led by Sam Evans, the renowned choir leader who also leads Thomas's Choral Society in Battersea, the choir is working towards several public performances, including next year's official opening celebrations for Circus West (Phase 1) at Battersea Power Station.
Sam said, "The Battersea Power Station Community Choir has rehearsed well in its first few weeks and I have lots of exciting ideas for the future. With this choir, I believe the sky is the limit."
Alex Baker, Community and Sustainability Manager at BPSDC, said,"The Battersea Power Station Community Choir is all about having some fun and raising spirits. We are committed to building a strong community by bringing our neighbours together with our new residents. Music has the power to bring people together like nothing else and we are thrilled that so many people have got involved already and we hope that more people will join in."
Local resident Anna Kalacinska added, "It has been exciting to be involved in helping to set up the choir and to see it grow. It is so satisfying to see the smiles of people at the end of us singing together for an hour and a half. We've all been talking about how healthy we feel from our sessions. I've so enjoyed getting together with neighbours that I had never met before and making new friends as a result. I hope that more Battersea people will want to join us so we can build on what we have already achieved and get ready for performances."
For now rehearsals will be at the Rose Centre, but once the new community arts venue in Circus West – The Village Hall – opens, some rehearsals will also be held there.
Leader of Wandsworth Council and co-chair of the Nine Elms Vauxhall Partnership Cllr Ravi Govindia said,"This is a brilliant project from the Power Station team, who have gone to great lengths to reach out to local people and get involved with local community. I'm delighted so many Battersea residents have already joined rehearsals and the choir's performance will be the perfect way to celebrate the launch of the new Village Hall and Circus West."
The weekly sessions will recommence for the first official season at 6.30pm on Thursday, 1 September 2016 and everyone is invited.
You do not need to be able to read music, or even have a good voice. Anyone interested in joining the choir or finding out more information should email choir@bpsdc.co.uk.
August 31, 2016