The extension of the Northern line from Kennington to Battersea has been given the go-ahead by the Secretary of State for Transport.
Battersea's first underground stations will open in 2020
The new underground spur will support the development of Nine Elms on the South Bank as a major extension to central London, supporting 25,000 new jobs and over 18,000 new homes.
The Tube link will cut journey times to the West End and the City to just under 15 minutes.
Two new stations will be constructed – one at the Battersea Power Station development and another just off Wandsworth Road.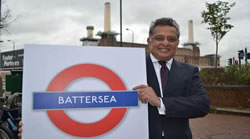 Ravi Govindia, leader of Wandsworth Council, said: "This is fantastic news for the people of Battersea and the benefits will be felt right across London. This part of the capital is already coming to life with thousands of new homes and jobs and its two new Tube stations will turbo charge the process.
"This council has now set its sights on a second stage extension taking the Northern Line all the way to Clapham Junction where it could interchange with the proposed Crossrail 2 service. We will continue to lobby for the major investment our transport network needs."
Following the Secretary of State for Transport's approval of the project, construction will start as soon as spring next year. Over three miles of new tunnels will be constructed and brand new stations opened by 2020.
The scheme is being funded by a levy on development in Nine Elms and through growth in business rates revenue. This is an innovative funding model which could be adopted in other regeneration areas.