Putney, Tooting and Battersea to all gain extra wards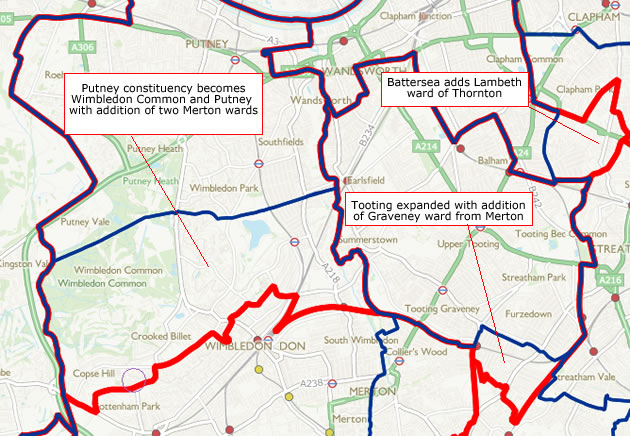 Current boundaries in blue. Proposed boundaries in red
The Boundary Commission of England has conducted a review of local constituency boundaries that will affect Wandsworth. The changes are needed to make the number of electors in each constituency more equal.
Under the proposals the Putney, Roehampton and Southfields constituency will retain all its existing six wards and add two Merton borough wards - Wimbledon Park and Village (including Wimbledon Common), while the map above shows that the Tooting and Battersea constituencies will each gain a ward.

The new Putney constituency would be renamed Wimbledon Common and Putney to reflect the fact that the reconfiguration includes Wimbledon Common wholly in one constituency.

In Tooting the Boundary Commission is proposing that the seven wards from the existing constituencies are retained, and that the Merton ward of Graveney is added.

Battersea proposals also include retaining all its current seven wards and that it is brought within the electoral quota by including the Lambeth borough ward of Thornton.
The Boundary Commission is an independent public organisation which has been asked by Parliament to review all the constituency boundaries in England. The law requires the size and shape of constituencies to be reviewed periodically, to stay in line with demographic changes in the electorate.
The rules set out in the legislation on boundary changes state that there will be 600 Parliamentary constituencies covering the UK – a reduction of 50 from the current number. This means that the number of constituencies in England must be reduced from 533 to 501.
Each constituency has to have an electorate that is no smaller than 71,031 and no larger than 78,507
The Boundary Commission are consulting on their initial proposals for a 12-week period, from 13 September 2016 to 5 December 2016. Their website has more information about how to respond as well as details of where and when they will be holding public.

September 13, 2016